From organizing casual beer tastings to this year's Harvest Moon Brew Fest in Aitkin on Sept. 7, the Glacial Lakes Brewers have a lot brewing these days.
It started as a small group of home brewers who worked together in the Aitkin County Land Department. The club has grown to include other area brewers and enthusiasts alike. But throughout the years the club's mission remains the same: To sample and share their love of home-brewed craft beer.
The first home brew tasting event was in a former Beanery location in Aitkin in September 2012. Since many of the original members worked in the Aitkin County Land Department, they wanted a brew club name that integrated their love for the land, water and beer, so they came up with Glacial Lakes Brewers.
Since that first event, home brewers Rich Courtemanche and Mark Jacobs invited other area brewers to join the club, which still tries to host quarterly tastings at the Beanery.
"I started brewing beer in 1993. I loved the chemistry behind it, but most of all I loved to share the beer," Courtemanche said. "For me, it's all about the beer tastings and the fellowship," he said. Today his specialties include a chocolate milk stout and a Marzen Octoberfest.
"The best thing about the club is sharing each other's home brews. It's great to see how everyone is expanding their brewing horizons and it's a good chance to sample different styles of beer," said Jacobs, who often brews Belgian-style beers.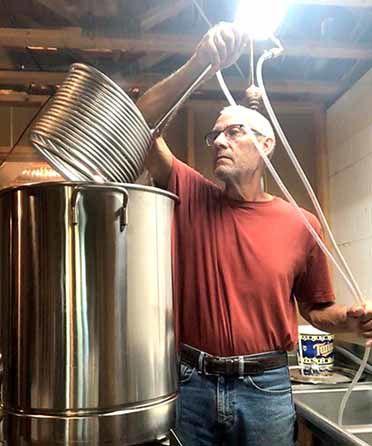 Dan Hansen, another early club member, agrees. "Belonging to the club gives everyone an opportunity to sample beers we might not brew ourselves," he said. He also enjoys sharing tips and tricks for brewing. "Brewing is quite a bit like cooking. With brewing you can really figure out what you like and then tweak recipes based on your taste. It's fun to experiment with different grains, hops and yeast when trying to brew that perfect beer."
In addition to tasting and talking about beer, Glacial Lakes Brewers once served as informal focus groups for owners of two local
breweries: Jack Pine Brewery in Baxter and Cuyuna Brewing in Crosby. Before opening, the owners asked brew club members to rate the beers they planned to sell on tap.
When public tastings via beer fests became legal and popular in 2013, Glacial Lakes Brewers helped organize and participate in Aitkin's first Harvest Moon Brew Fest. Early club members Dake Olson and Jeff Sather demonstrated how to brew beer and would-be brewers had an opportunity to learn more about yeasts, hops and kegging, as well as more about the club.
After brewing at home for years, Olson decided to take the leap and start brewing professionally.
"I was already well down the rabbit hole of learning how to be a professional brewer by the time I joined Glacial Lakes Brewers, but being around other people who share a passion for Craft Beer kept up my enthusiasm for it," Olson said. The club also put Olson in touch with Courtemanche, and the two ultimately became partners, along with Peter Lowe, in opening Block North Brew Pub in Aitkin last spring.
"The process of making beer is pretty much the same for every beer, but every brew day is unique," Olson said. "Each day there is something to learn, improve or experiment with, and there is always something that needs to be tinkered with."
Although he doesn't brew at home anymore, Olson said Block North's brewhouse is basically a scaled-up home brew setup, so he "feels that passion for brewing every time they brew a batch."
What's on Tap?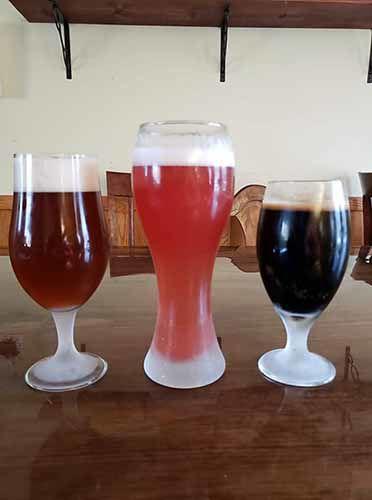 The Glacial Lakes Brewers are busy finalizing plans for the 6th annual Harvest Moon Brew Fest in downtown Aitkin from 3-6 p.m. on Saturday, Sept. 7. They encourage people to stop by their tents where they will serve a variety of home brews, including Forest Red (wild ale with raspberry), Arrogant Spruce (American strong ale with spruce), Boysenberry Brown, Rock Lake IPA, Fruit Bazooka New England IPA and Rainy Day Extra Special Bitter.
After the Harvest Moon Brew Fest, the club plans to get back to hosting quarterly tastings and other events.
"I think it would be awesome to have group brews, where we could develop a base together and each take a portion and put a twist on it," said Beth Johnson, who, along with her husband Gary, have brewed a variety of beers and ciders. "It would also be awesome to provide members and the public opportunities to go on brewery tours, where we can visit our local and regional breweries."
More information
Brewers and beer enthusiasts are encouraged to join Glacial Lakes Brewers. For more information, visit www.GlacialLakesBrewers.org or www.facebook.com/harvestmoonbrewfest/ or email Ross@GlacialLakesBrewers.org.