Aug. 29
Brain injury group meets
People with brain injuries and their caregivers and those who are affected by stroke are welcome to attend Cuyuna Regional Medical Center's brain injury and stroke support group on Thursday, Aug. 29, from  6-8 p.m. in its Clinic Conference Room.
The group's facilitator is Russ Philstrom, a member of the Brain Injury Alliance of Minnesota. There is no charge and no reservation is necessary. Call 651-329-1373 for more information.
Aug. 30
Local author book signing
Local author, Janet Hill, will be signing copies of her newly-released book Where Is Smelly Ann Skunk? at the McGregor Library on Aug. 30 from 1-4 p.m. and Aug. 31 from  9 a.m. - 1 p.m.
Aug. 31
2019 White Pine Logging and Threshing Show
This Labor Day weekend, August 31-Sept 2, the White Pine Logging and Threshing Show will draw people to McGrath to see grain threshing, shingle making, a working printing demonstration, a water-powered feed mill, working blacksmiths, farm animals, a 250 hp Nordberg Steam Engine, five large Fairbanks Morse Diesel Engines, a 150 hp Bessemer Natural Gas Engine, a 60 hp Pattin Hit-N-Miss Engine, barrel-making demonstratio, lumber sawing, and much more.
•Daily Admission: $12.00. Weekend Pass: $20.00.
•Children under 12 Free.
•Gates open at 7:00 a.m.
•Parade held daily at 1:00 p.m. with over 250 old tractors.
•Pancake Breakfast 7:00 a.m.-9:00 a.m. Hot Dinners served daily on grounds.
•Barn Dance on Saturday and Sunday nights.
•Sunday Morning Worship and Praise Service at 9:00 a.m. and 10:30 a.m.
•Watch for signs on the north edge of McGrath, on Hwy. 65.
For more information and photos go to whitepineshow.webs.com.
Outdoor gospel concert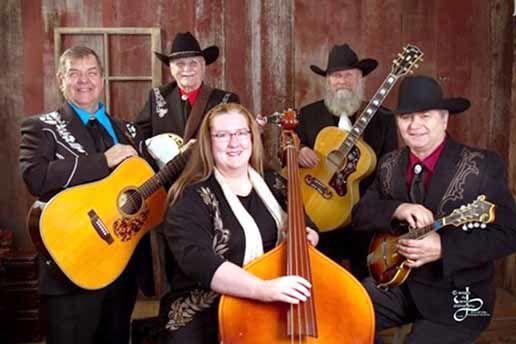 This Saturday night, Aug. 31 at 7 p.m., "King's Countrymen" a bluegrass gospel group from Central Wisconsin.
The King's Countrymen was formed in August of 1994 by Lorn and Kristi Schultz of Mondovi, Wis. They perform at county fairs, festivals, nursing homes, retirement centers and churches in the midwest and beyond.  
Members include: Lorn Schultz, vocals and playing rhythm guitar; Kristi Schultz, sound technician; George Cordwell, vocals and guitar; Kathy Krug, fiddle and vocals; Dan Cavanaugh, banjo and vocals; Mary Pimblett, vocals and upright bass and Jim Williams, product manager.
Be sure to come for an evening of toe tapping, hand clapping music that will leave many smiling.
Come as you are and bring a lawn chair to enjoy Malmo Church's 25th year of great music in the out of doors. In case of rain or excessive heat the concert will be inside the air-conditioned church. Refreshments will be available and a free will offering will be received.
Malmo church is located on Hwy. 18 near the north east corner of Lake Mille Lacs.
These concerts are every Saturday evening so plan on a summer filled with gospel music.
Oil and water do mix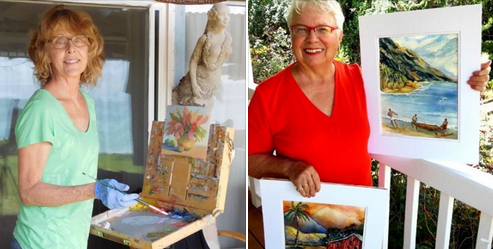 The Jaques Art Center at 121 2nd St. NW has announced the next exhibit: "Oil and Water do Mix."
This exhibit will consist of the work of Cynthia Kath and Kathy Kovala. The exhibit begins on Aug. 30 with the opening reception on Saturday, Aug. 31 from 12 - 3 p.m. Stop and meet these two artists and have refreshments sponsored by Sandi Pillsbury, fellow artist and friend of the Jaques.
Kathy Kovala will be offering a three-day watercolor workshop on Sept. 20-22 from 9:30 a.m. - 3:30 p.m. at the center. Call 218-927-2363 with inquiries.
Sept. 1
Rise above addiction
The Glen Community Church will host the Central Lakes Adult and Teen Challenge choir in a free performance on Sunday, Sept. 1 at 9 a.m. The MNTC Choir is known statewide, having performed at over 450 churches in 2018. The choir's contemporary gospel and praise songs will be accompanied by the clients' stories of addiction recovery. Representatives from the program will be available following the service to answer questions about the programs of MNTC.
This event is open to the public and everyone is welcome. A free-will offering will be received in support of the program. For more than 25 years, Minnesota Adult and Teen Challenge has been restoring hope to many teens and adults struggling with drug and alcohol addiction. It is one of the largest programs in the nation with campuses in Minneapolis, Brainerd, and Duluth.
The Glen Community Church is located one mile east of the Glen Store and Grill off of Hwy. 47. For more information about the performance or Minnesota Adult and Teen Challenge, call Camille Lartigue at 218-833-8760.
Sept. 4
Breastfeeding class offered
Cuyuna Regional Medical Center is hosting a breastfeeding class from 10 to 11 a.m., Wednesday, Sept. 4, in the Multi-Specialty Conference Room on its campus located at 320 East Main St., Crosby.
A birthing center nurse will provide information on the benefits of breastfeeding, feeding techniques, what to expect when breastfeeding and overall breast care. There is no charge for the class and registration is not required.
For more information, visit cuyunamed.org or call 218-546-4350.
Sept. 5
Blood drive at CRMC
To help meet the need for blood donations, Cuyuna Regional Medical Center (CRMC), Crosby is hosting an American Red Cross Blood Drive on Thursday, Sept. 5, from 10 a.m. to 4 p.m. and Friday, Sept. 6, from 8 a.m. to 2 p.m. in its Clinic Conference Room.
Appointments can be scheduled by downloading the free Red Cross Blood Donor App, visiting redcrossblood.org or calling 1-800-RED CROSS (1-800-733-2767). To help reduce wait times, donors are encouraged to make appointments and complete the RapidPass online health history questionnaire at redcrossblood.org/RapidPass. Walk-ins are also welcome; the process generally takes about 45 minutes. A blood donor card or driver's license or two other forms of identification are required at check-in.
All blood types are needed to ensure a reliable supply for patients. Individuals who are 17 years and older, weigh at least 110 pounds and are in generally good health may be eligible to donate blood. Those who donated blood earlier this year may be eligible to donate again. Blood can be safely donated every 56 days, and Power Red cells can be donated every 112 days. Please contact the Red Cross at 1-866-236-3276 with any eligibility questions. Donor suitability is determined at the collection site on the day of donation.
Every two seconds someone in the United States needs blood. The Red Cross relies on community partners to help ensure a sufficient blood supply for patients. About 80 percent of blood donations made to the Red Cross are through blood drives set up by community organizations, groups and businesses.
Donors should enter CRMC through its main entrance and follow signs to the Clinic Conference Room. Ample parking and a shuttle are available near the main entrance.
Upcoming sports