A listening session with Senator Amy Klobuchar's staff was held at the Aitkin Public Library on Sept. 17
to hear the community needs surrounding housing, broadband and transportation.
Among those attending were representatives from Minnesota Department of Transportation, Minnesota Association of Counties, Aitkin County, the city of Aitkin, Mille Lacs Energy Cooperative, Aitkin County Growth and members of the public.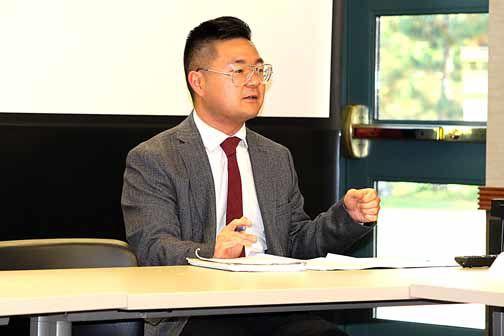 Housing
Outreach director with Senator Amy Klobuchar's office, Rommel Lee, led the conversation on housing. The group discussed issues of affordability, accessibility and availability of housing in Aitkin County.
Aitkin County Growth Executive Director Barb Carr said the mission of the nonprofit economic development corporation is to improve the quality of life through job creation, economic diversification and area development. According to Carr, having more places for the workforce to live would help prevent area businesses from closing.
"Twenty-one percent of Aitkin workers travel more than 25 miles to get to work," Carr said. "There are great opportunities to bring people in and get them trained in. You can own a home here, pay low taxes and have a chance to have a great quality of life. This is the place to start a business. There is no reason why more people cannot enjoy it."
A recent housing study funded by Aitkin County Growth and the city of Aitkin showed a need for approximately 350 additional housing units within the next 10 years in Aitkin. Carr said that buildable land is sparse in the area due to the high amount of wetlands, along with regulatory restrictions that come with them.
She also noted that rural communities need better access to state and federal funds. "The point system puts rural communities at a disadvantage," Carr said. "For example, Onamia's townhomes would be a great addition to housing in our region and yet no funds were awarded to the project. Requiring public transportation in the area automatically discredits all rural communities. We are willing to invest our funds but to have so many regulatory steps stops us from moving forward. The point of identifying Opportunity Zones should be to assist with growth in those areas."
Aitkin County Growth has a goal to create 30 market rate rental units on its Minnesota Ave. property in Aitkin. The site previously served as an incubator for start-up businesses. "It made sense to create housing there instead to improve the downtown landscape," Carr said. "But there are a lot of barriers. In addition to the cost of the housing study, we took on the cost to tear the old building down to improve the chances of rebuilding on the site.
A sewer study is in the works at the city level which will help to determine what density can be done under the current system. We will wait to rezone the property until after the sewer study."
Aitkin Mayor Gary Tibbits said, "There are also two new housing developments starting up in town. New doctors and teachers need a place to stay. Barb's 30 units would be amazing."
County Administrator Jessica Seibert added there is a need to take care of current housing stock as well. "The elderly living in these homes cannot afford new roofs, sewer and septic. The county has applied to the Small Cities Development Program, but keeps getting denied because the application is too rural," Seibert said.
Anne Schwartz with Habitat for Humanity said it would be great to have a program for small repairs to make people's homes accessible. "There is a huge demand for roofs. If the roof goes, the house goes," Schwartz said.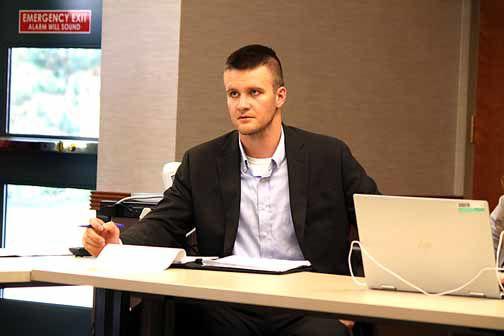 Broadband
Outreach director with Klobuchar's office, Kurt Johnson, led the conversation on broadband. Currently, the office is working on mapping to identify broadband needs in communities throughout the state and supporting funding or other solutions.
Aitkin County Economic Development Coordinator Ross Wagner said the county has supplemented funds toward increasing broadband availability in the area, adding, "We need outside help to get broadband throughout our county."
Mille Lacs Energy Cooperative is a member-owned organization that has also invested into expanding broadband services in the area. Stacy Cluff said MLEC has applied for additional grants. However, in 2017 a new tax law passed which limits the amount of income generated from non members. If awarded grants next year, it would affect their tax-exempt status.
The lack of broadband and low-speed standards are barriers to attracting businesses to the area, Wagner said. When the internet is down, some businesses still have the ability to store credit card charges, but if they aren't accepted when they go through owners lose revenue.
The larger populated areas of the county are served, but outlying areas struggle to connect. "Local restaurant owners find 10-12 cars in their lot each morning with people parked there to use their broadband," Wagner said. "The schools have high speed, but the kids who live 2 miles out of town can't connect to do their homework because they don't have broadband."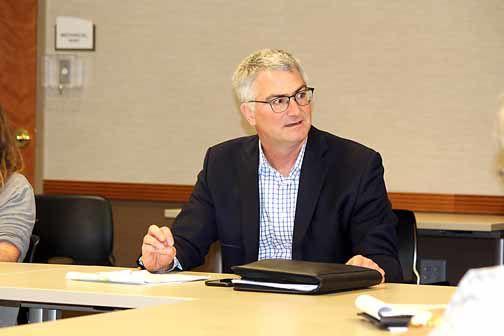 Transportation
Federal Relations Manager with the Minnesota Department of Transportation, Serge Phillips, led the conversation on transportation and county infrastructure issues.  
Aitkin County Engineer John Welle said, "Investment in transportation is falling behind."
He explained that although rural counties have the ability to enact a Local Option Sales Tax, it is not beneficial to Aitkin County because of the lack of local retailers.
"It's created an unfair playing field. Seventy-five to 80% of the tax would come locally," Welle said.
Administrator Jessica Seibert agreed, "It's time to take a look at these formulas because small rural counties don't have the same benefits."
"If there are carveouts that only small rural communities can compete for it would be helpful," Welle said.
Welle also spoke of the importance of maintaining state highways for safety. "By and large, the county roads are in better shape than the state roads. The state gets a portion of funding from the federal government, but they haven't raised the federal gas tax since 1993," Welle stated. "It's doing a terrible disservice to the public by not funding the highways. There probably isn't one of us here that hasn't had a friend or family member impacted by a crash on the highways. Our two-lane rural highways are most dangerous and we need to fund them so they are safe for our drivers."
Aitkin County Commissioner Donald Niemi agreed, stating the most acceptable tax people were willing to pay is a gas tax.
The conversation shifted gears to discuss transportation via bicycle. Mayor Gary Tibbitts said he would like to see the state support so the bike trails on the west end of Aitkin can connect to Deerwood. He referred to the recent opening of new bike trails in Crosby. "We need to be a part of that," Tibbitts said. "The biggest industry in Aitkin is tourism."
Regional outreach director with Klobuchar's office, Ida Rukavina, concluded by thanking everyone for their input. "We know it is affecting our economic development when rural areas get left behind. Don't hesitate to contact Senator Klobuchar's office."