Aitkin welcomes new teachers
Five new teachers joined the Aitkin School District for the 2019-2020 school year.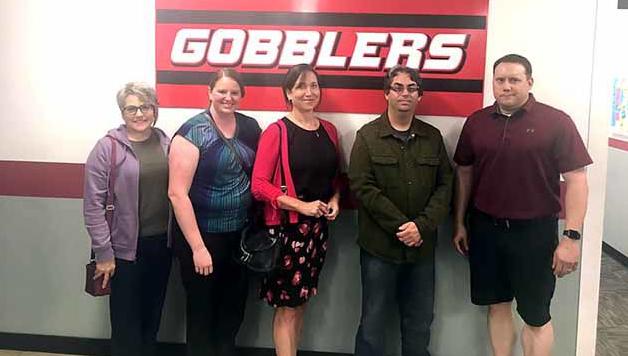 Kayla Santema
Kayla Santema joined Rippleside Elementary School on Aug. 22 as the new special education teacher. Santema graduated from St. Cloud State University with a degree in elementary education and spent the last three years teaching at Isle Schools.
Some of her hobbies include being with my friends and family, watching the Wild play hockey and reading. "I am looking forward to meeting new people and getting to learn new things," Santema said.
Sue Peterson
Sue Peterson is a new elementary special education teacher at Rippleside.
Peterson is originally from Spicer. After having graduated from Southwest Minnesota State University in Marshall, her teaching career began in Glencoe Silver-Lake primarily in the middle school science areas.
After moving to this area and beginning a family, Peterson also participated in SEELS, a special education longitudinal study based in Washington D.C. to track SPED students by determining through data she obtained in administering the Woodcock Johnson test, and reporting the best targeted teaching practices for the participating students and schools within the area. Peterson worked with SEELS in Grand Rapids, Staples and Cohasset.
"I took a hiatus in teaching to raise my three children. I also have authored articles in local publications, coached basketball and volunteered in school. My oldest just graduated from St. Olaf and she works at a peace initiative think tank in Washington D.C., my son is a junior at UMD majoring in engineering, and I have a junior in high school. I'm very excited and grateful to be a part of this caring and talented staff," Peterson said.
Craig Larson
Craig Larson will start as the new Physical Education teacher on Sept. 3. Larson has a BAS in physical education from the University of Minnesota Duluth. He began at St. Cloud School District in 2000, served as the head boys' high school hockey coach for the Northern Lakes Lightening (the Pequot, Crosby, Aitkin co-op) for six years.
Larson said he most looks forward to "working with kids and being a part of a great school district."
Outside of school, Larson coaches hockey. He loves the outdoors and enjoys hunting in the fall and golfing in the summer.
Daniel Krueger
On Sept. 3, Dan Krueger will become the new substitute social studies teacher at AHS. Krueger graduated from Bemidji State University 2013 in Earth and space science/education for grades 5-12.
He served as substitute teacher at Bemidji area charter schools, then moved to Aitkin in 2017 and worked as a behavioral paraprofessional for Discovery Woods. His hobbies are table top/video gaming, anime and costuming.
Laurie Jost
Laurie Jost joined ISD 1 as a Special Education teacher on Aug. 20.     
Jost has a BS in Special Education from Minnesota State, Moorhead. She formerly served as a paralegal before getting into special education. Jost looks forward to meeting the families and staff at Aitkin High School. Outside of school, she enjoys paddleboarding, biking, knitting and reading.
---
New Rippleside Elementary Principal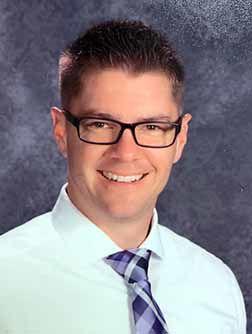 It's a busy week for Andrew Dokken, as he takes over the reins as the  new principal at Rippleside Elementary.
Dokken grew up in Bemidji, and attended Bemidji State University. HIs masters in K-12 curriculum  instruction, with a reading emphasis and a sixth year education specialist certificate for K-12 principal licensure are from Moorhead State University.
Dokken taught middle school  in Red Lake for 11 years, sixth through eighth grade math. After, he spent three years at Hill City as assistant principal and activities director.
When asked what drew him to the position in Aitkin, Dokken replied, "I was intrigued by the school, and impressed by things I had heard.  Also, I wanted to focus on elementary education, rather than being in a K-12 environment."
The Aitkin area itself was also a draw for Dokken and his wife, Elise, who is self employed.
"The community has been very welcoming, especially the teachers and staff at Rippleside," said Dokken. "I want to continue with the many great initiatives that I see working well at the school." Dokken does not plan any major changes during his first year at Rippleside, rather he will be watching and learning, with a view to understanding the system that's in place.
"I am super excited and blessed to be trusted to work with the students at Rippleside," Dokken said last week.
The Dokkens are planning to move to Aitkin as soon as possible.
---
New McGregor staff
Emily Delfosse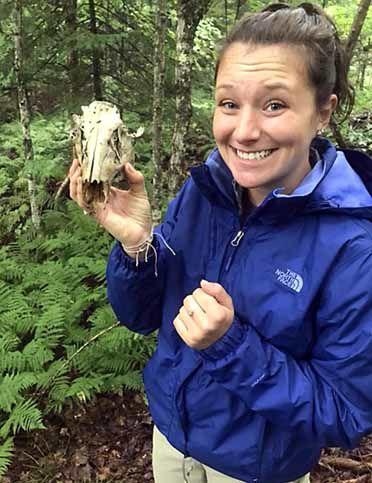 "Hello, my name is Emily Delfosse, and I am looking forward to joining the McGregor staff as the new science teacher. I grew up in Cumberland, Wis., where most of my family still lives. I attended college at the University of Minnesota-Duluth where I earned a Bachelor's Degree in secondary education. I spent the last year working as a naturalist at the Wolf Ridge Environmental Learning Center teaching kids of all different ages cool things like stream ecology, rock climbing, geology and so much more. I am a lover of sports, especially the Green Bay Packers and the Badgers' men's basketball team. In my free time, I enjoy playing board games, reading books, spending time outside and watching movies.
I am excited for the school year to begin and can't wait to start on this new adventure with the students in McGregor!"
Ryan Dillner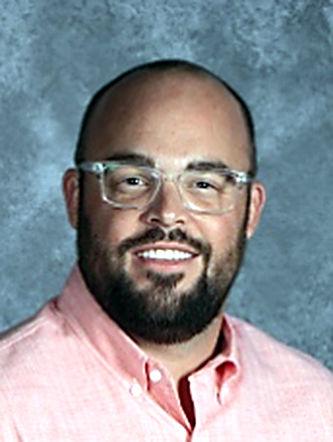 "I am extremely excited to be joining the McGregor School District as the dean of students-behavior specialist for the 2019-2020 school year. I grew up in Shoreview, and after graduating high school, I attended the University of Minnesota-Twin Cities. From there, I went on to attend Bethel University to get my masters degree in education and recently completed my K-12 principal licensure from Concordia University in 2018. For the past seven years, I've taught middle school science in New Prague, as well as coached football, hockey and baseball. Outside of my career, I spend most of my time fishing, watching college football, working on house projects and spending time with family and friends. I am looking forward to getting to know the students, families and community of McGregor."
Mike Sorenson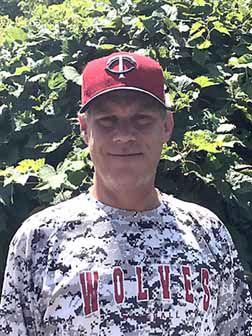 "I will be the new special education teacher at McGregor High School this year. I have been teaching special education for 12 years. I started teaching in McGregor, where I taught for six years. I've also taught in Milaca, St. Cloud and Little Falls.
During my 12 years of teaching, I've coached football, basketball and baseball. My love of teaching comes from my family and my ability to reach kids and help transition them from being students to becoming positive members of their communities as young adults.
I graduated from McGregor in 1987 and love the area. I've been married for 27 years to my wife Melanie. We have five children - Brittany, Tony, Mikhayla, Hannah and Suzanne.
I'm very excited to be coming home and adding to a great school and community. I look forward to continuing friendships and creating more opportunities to build relationships with others in the community.
Go Mercs!"
Kayla Koll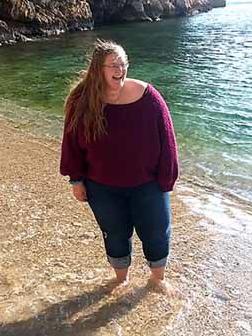 "Hello. My name is Ms. Koll. I am 23 years old. I was born and raised in Minnesota and love living here. I grew up in Prior Lake, Minn., but I graduated high school from Moose Lake in 2014. Once I graduated high school, I moved to Duluth and went to the University of Minnesota-Duluth. I graduated from there in May. While at UMD, I had the wonderful opportunity to teach abroad in Slovenia. It was a marvelous experience with many memories.
In my free time, I enjoy going on walks, being on the lake, coloring and watching movies. I enjoy spending time with friends and family as much as possible. My favorite season is fall because I enjoy looking at all the color. I love blankets and cups and have them all over my apartment. I enjoy small towns and am excited to be a part of the Mcgregor School. I can't wait to start the year.
Pictured I am at the beach in Rijeka, Croatia, where I was able to see salt water for the first time at the Adriatic Sea."