Rippleside Elementary held its third annual Numbers and Nachos event Oct. 22 which was attended by approximately 84 K-6 students, who, along with their parents ate walking tacos and nachos before exploring learning games at three separate stations. The games included hotshot basketball, IXL/Sumdog and grade level card games.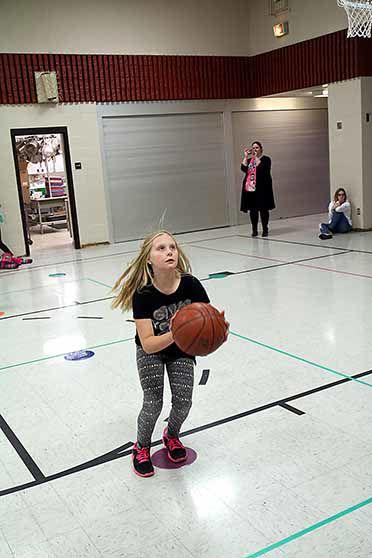 At hotshot basketball, students were able to shoot baskets while working on number sense. Students shot from various spots on the court. Each student had 60 seconds to shoot. While shooting, the students kept a count of how many points they accumulated during the time allotted. Each shot was worth one, two or three points, depending on which spot they made the basket from.
At the IXL/Sumdog station presentation and practice, students were able to show their parents the technology programs and how they are used to supplement the math curriculum. "It's the first time many students were able use Sumdog and see how many learning games are available," said third grade teacher Daryl Smith. "Many parents also got their first look at IXL/Sumdog math."
Grade level math card games drew the most interaction between students, teachers and parents. Students were taught counting games using a deck of playing cards. Games like Builder's Paradise, a sequencing game for younger students; No Peek had students guessing the missing number in a basic fact equation; and Absolute Strategy War in which two or more students use any combination of operations to get the total closest to zero, the player closest to zero picks up all of the cards. Other games included Addition War, The Pyramid Game, Multiplication War and Integer War, The card games drew lines of students waiting to participate.
All students were able to take home a bag of playing card math games to enjoy with their family. Seven lucky students had their names drawn for a commercial game that uses mathematics.
PRINCIPAL'S COMMENTS
Each year during Family Fun Night, Principal Jesse Peterson shares with parents an overview of the school's programs and the academic changes that have been made.
Some of Peterson's comments included, "Rippleside Elementary School has been a schoolwide Title I school since 2010. Federal funding is granted to the school in order to support quality core instruction and interventions to struggling learners. Rippleside's Title I dollars support the school by hiring paraprofessional support, a literacy coach, a leveled literacy intervention teacher, an additional classroom teacher to reduce class sizes, and a Title 1 coordinator, as well as sending staff to specific trainings."
"All students follow a balanced literacy approach with 120 minutes of reading instruction per day. This includes whole class instruction, small group instruction, word work and writing, all of which are driven by Minnesota state standards. All students receive a minimum of 60 minutes of math each day which includes whole group time, independent time and peer collaboration time to learn, work with manipulatives, practice and understand concepts."
"Over the past three years, Rippleside Elementary School has made some great changes within the classrooms. Each classroom posts learning targets so students know what they will be learning during math and reading. Teachers have incorporated math talks during math time which helps students explain their thinking to other students. Guided reading takes place each day so students receive reading instruction at their level. Lastly, each Tuesday morning, a grade level teachers' meeting is held in order to align the math and reading curriculum."
Peterson went on to explain, "Rippleside has several opportunities for students to receive quality interventions. Each grade level has a 30 minute "What I Need" (WIN) time built into their daily schedules. During this time, students are taught at their instructional level to reach their next reading or math goals. All students are involved in this time of instruction to meet their learning needs."
Rippleside has three literacy intervention programs currently being used. PRESS (Path to Reading Excellence in School Sites) for grades K-6 created by Minnesota Center for Reading Research at the University of Minnesota. This is a comprehensive system of tiered supports and data-driven decision making driven by research-based approaches to literacy. It includes interventions in phonemic awareness, phonics, fluency and comprehension.
LLI (Leveled Literacy Intervention) is a second intervention program developed by Fountas & Pinnell, a powerful, short-term intervention, which provides daily, intensive, small-group instruction, that supplements classroom literacy teaching. LLI turns struggling readers into successful readers with engaging leveled books and fast-paced, systematically designed lessons.
Reading Corps is the final research-based reading intervention program for K-3. Rippleside's reading corps tutor works one-on-one with readers, grades 1-3.
For students who excel in the intermediate grades, Rippleside has a program called "Breakout" which helps advance students' thinking by using critical thinking, collaboration, creativity, and communication. All of these programs support the CORE instruction (math and reading) Rippleside offers students each day."
Rippleside's PAC (Parent Advisory Committee) puts on the event and the PTO supplied the grant for the food and door prizes. More than 25 people (Rippleside staff and community members) helped to make this event a success.
Look for an upcoming Family Fun Night towards the end of Feb. in which reading will be the focus.
COMMENTS FROM PARENTS:
"My child learned how to work with others."
"My child had fun and was able to show Mom some things she does in school."
"My child had fun learning math skills." "It was a great way to learn."
"My child learned how to play war with addition."
"My child learned how to play some fun card games."
"I liked the update the
principal gave during the event."