A proactive K-12 systemic approach to regulating the social, emotional and educational needs of all students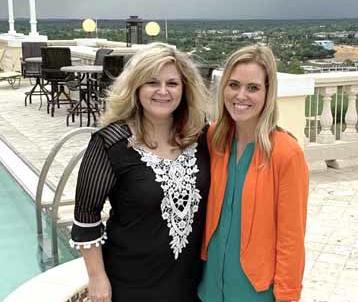 The Minnesota Department of Education (MDE) has adopted a central strategy that focuses on Social and Emotional Learning (SEL), targeting bullying and school climate improvement. Developing competencies in students' abilities in managing emotions, setting goals, establishing relationships, and making responsible decisions supports their success in school and life.
Alesha Bates of Brainerd and Lainey Sandberg of Aitkin were recently recognized for their presentation called, Calming The Storm: ​Regulating Behavior at the Center for Scholastic Inquiry International Research Conference in Orlando, Florida in April, 2019.
Based on the research project the pair undertook during their Master's Learning Community, the two special education instructors designed and developed an effective set of screening tools, activities, lessons and record-keeping system strategies to help teachers work with K-12 students who are struggling with self-regulation and emotional control in their respective schools.
"As our research evolved, we discovered that there are three primary areas that students struggle with the most, in terms of self management: emotional regulation, task initiation, and flexibility," said Sandberg.
Emotional regulation and management is how well a student can manage and control their emotions or, more precisely, their emotional reactions.
Sandberg explained that task initiation refers to the student's ability to be motivated, to take on new tasks, and to persevere with those tasks until completion, even if challenges are encountered.
Flexibility is being able to come up with different ways to solve problems, having many different ideas about how to do something, and being able to 'think outside the box'.
Since presenting in Florida, Sandberg and Bates  have also been accepted to present at the annual Minnesota Rural Education Association Conference on Nov. 18, 2019 at Cragun's Resort in Brainerd. The pair has also been hired as consultants to teach others how to implement their curriculum.
Sandberg, special education teacher at Aitkin  High School, explained that through the implementation of Calming The Storm, she and Bates have learned that implementing specific behavior-regulating skills positively influences student academics, as well as the learning environment for other students. The students displayed higher expectations for themselves and their peers in the classroom. Students were able to "close the gap" between positive behaviors and positive academic scores.
To learn more about the Calming the Storm program, please visit their website at https://www.calmingthestorm19.com/