In 1975, Dave Paulson met his wife of 43 years, Suka (then Mun Suk Yi), in a supper club where she worked while he was serving in Korea.
At the time, Suka knew little English. Despite this, the two got to know each other, often using interpreters or hand signals to communicate. Dave showed her pictures of his farm and family back home, and talked about the animals they had there. They gradually bonded and eventually dated, and married on June 1, 1976 in the United States embassy in Korea.
The path to marriage wasn't easy. Paperwork for the arrangement took six months to complete, and the eldest male in Suka's family, her uncle, was not initially receptive to the ceremony. Luckily, he eventually agreed, satisfying Korean tradition. But this was not the last obstacle for the newly-wed couple.
Months after the marriage, Dave's tour in Korea ended, forcing him to leave his wife for four months before he again returned with the Army for another year. This time, they returned to the United States together, to Fort Campbell, Ky., where they had their first son. Then, after another stay in Korea and a short halt in Fort Lewis, Wash., they returned to Dave's home in Minnesota in 1981, and were given a warm reception. Dave had served a total of seven years, and done three tours.
The new situation was a brand new experience for Suka. Originally, she had only agreed to stay in Minnesota for a year. During that year, Suka was displeased with her new environment. She struggled with the new weather (specifically winter), having no friends, and the different food. After a year, Suka requested that Dave re-enlist. Unfortunately, a re-enlistment by that time meant Dave would lose his previous rank (staff sergeant) and would have no guarantee of another Korean tour. In the face of that, the two opted to remain in Aitkin.
Before long, Suka started her job at Ben Franklin to make friends and improve on the English she learned back when the couple was at Fort Lewis. In 1983, she achieved her citizenship.
In 1985, Dave started Dave Paulson construction. In 1998, Dave purchased his family's dairy farm, where the Paulsons have lived since.
By 1998, Suka had worked at Walmart, Pamida and finally settled at Security State Bank, where she works today.
In 2001, Suka was diagnosed with breast cancer, a condition that changed her life. She has since recovered, and now takes care to exercise and eat well.
Over years, Suka said that her children (John and Melissa) leaving, her aging, hormonal changes, and being alone again with Dave have become an emotional hardship. There was an emptiness that took years to work through, she said. Recently, she's been soul-searching, finding herself and discovering what life is about. After considering everything, she's decided she's done well with her family and her career.
With all of the challenges she faced, she gave Dave credit for sticking by and helping her with everything she wanted.
"He has supported all of my desires that I wanted to accomplish as a wife," she said.
She has done the same for him, and she embraces his family's traditions, namely Swedish fish, lefse and lutefisk. She also became a Christian (she was formerly a buddhist) and remains involved with the family at First Lutheran Church, where she was first baptized several years ago. Dave is active through the VFW, and for six years has served with the Aitkin American Legion.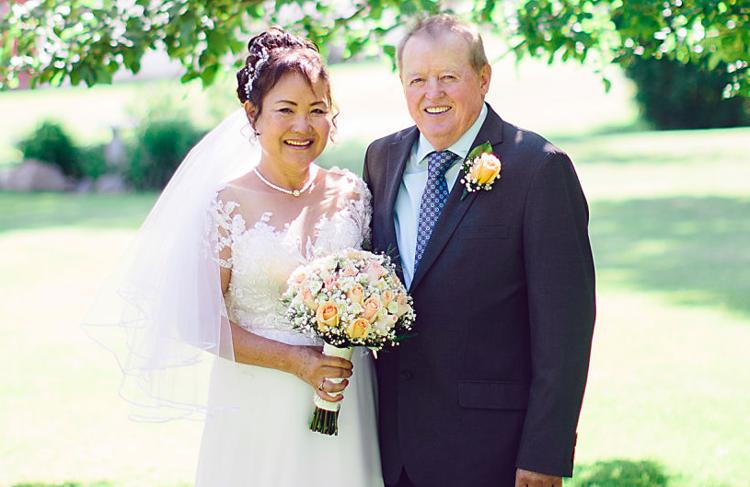 Last July, the Paulsons renewed their vows. It was a well-attended event, with members of both sides of the family witnessing the renewal. Dave and Suka didn't receive a ceremony for their wedding in Korea, so this was a chance to finally show their friends and family what they had made together, and how beautiful a marriage can be.
"Me and him, we created something, and it's beautiful," said Suka.