He's been a farmer, a welder, a firefighter and a bartender.
But in 1978, Bob Nicko found his lifelong career in the city of Aitkin maintenance department.
Now, after 43 years working for the city of Aitkin, and 36 of those years as its street commissioner, he will say goodbye to snow plowing, street sweeping, sewer repair and grass mowing, among many other duties.
Nicko was the youngest of five children born to John and Saphrona Nicko in rural Aitkin. The family raised dairy cattle until 1970 when the Aitkin Creamery was changing its operations. The Nickos purchased beef cattle which have been raised on that farm ever since.
Nicko graduated from Aitkin High School in 1974 where he was involved in FFA. John and Saphrona weren't well at the time, leaving most of the farm duties to their youngest child. In spite of that, they encouraged Bob to experience something other than farming in Aitkin County. He moved to the Twin Cities, where he worked as an all-position welder building heating and air conditioning units for malls and other large buildings.
"Those were seven of the longest months of my life," Nicko said. "It wasn't for me."
He returned to Aitkin and worked with the DNR during spring and fall fire seasons. He performed other part-time jobs for the DNR and did some logging.
"In 1978, I went to city hall to apply for unemployment," he said. "Someone mentioned the city needed a bartender at the municipal pub and I filled out an application."
He was called for an interview and you might say the rest is history.
In February 1978, he began working in the off and on sale municipal operation. In 1979, then-street commissioner Connie Lueck asked Nicko if he would help with snow removal. Although Nicko could have remained at the municipal store, he opted to help out in the city maintenance department. He was hired full-time there in 1979.
When Lueck retired in 1985, Nicko was selected as the street commissioner. Nicko said his first job in his new position was to hang a sign he had made designating the city's ballfield "Connie Lueck Field."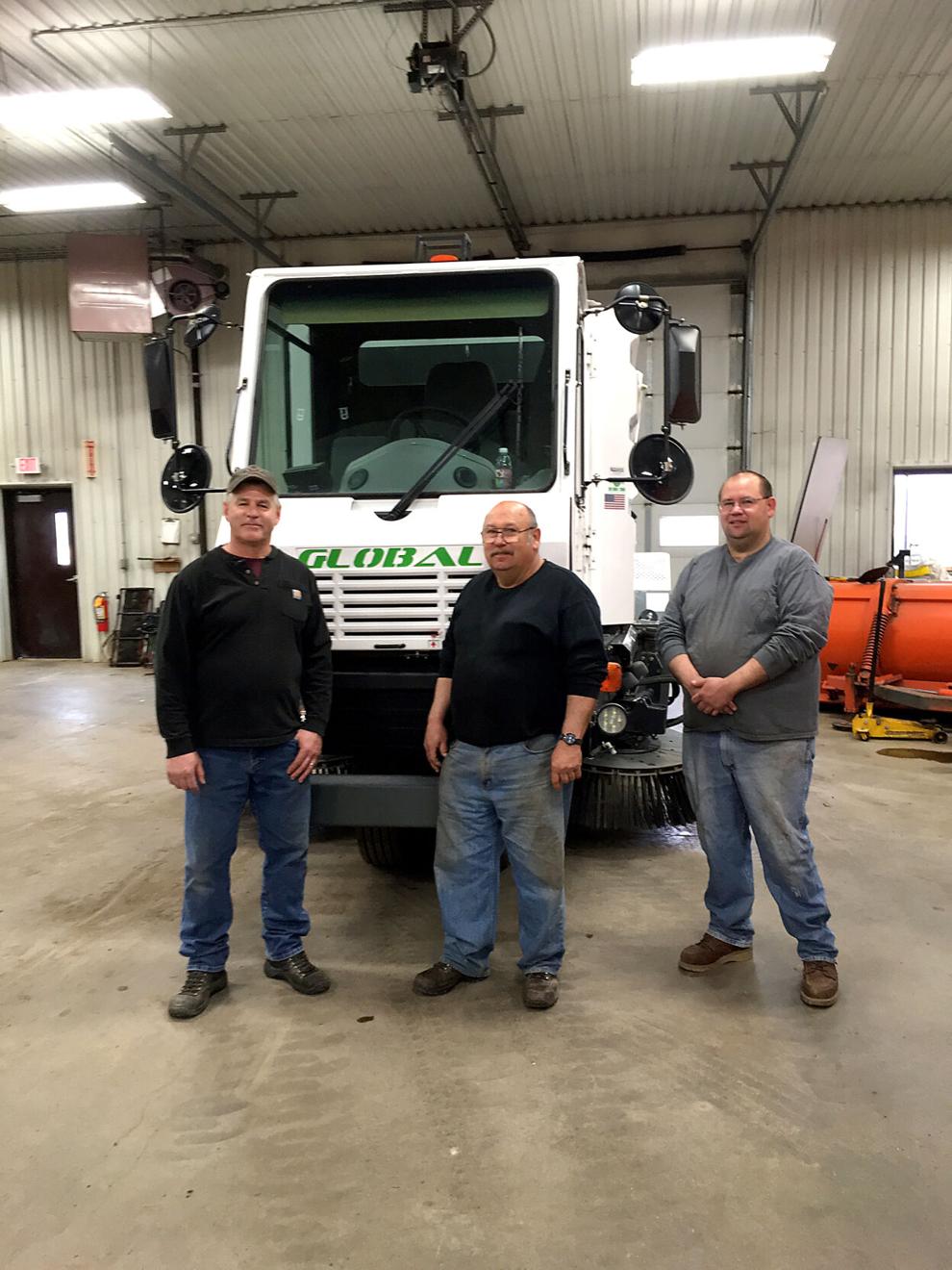 Always a three-person department until 2021, the members have seen many upgrades in the equipment, all which made their jobs a bit easier.
For example, in the early years, the crew had to hand-shovel sand and salt into the truck - 25 yards of sand and one load of salt for one winter. They finally put a sanding unit on a 1985 Ford truck. Compare that to now. The city's 2000 Sterling plow plows and sands at the same time. The department currently has two plow trucks – a 2000 and 2003 tandem and a new one is arriving next March.
The street sweeping and grass mowing equipment improved greatly as well. Especially challenging was the fact there were no records on the sewer system in the city. For sewer work, a rodding machine and trailer jetter were replaced with a combination unit. The ability to televise the sewer lines was added in 2006.
"The sewers are on a program now," Nicko said. "And we use videos to look at the lines."
In 2002, a new street shop was built near the city's wastewater treatment plant, as well as adding a sand/salt shed. All that was necessary as the city added more streets and more property to its parks.
Always ready with his signature yellow notepad, Nicko has still made the transition to computerized records. His son, Lon, who joined the street crew in 2011, was especially helpful in those efforts having more skills in technology.
Nicko's department has also been responsible for the two city parks, the walking trail and skating and hockey rinks.
"I designed and did the base work for the mile of walking trail near Rippleside School," he said. "We replaced playground equipment and maintained the skating and hockey rinks."
Biggest accomplishment: "I have never overrun my budget in 36 years."
Favorite things: "The satisfied feeling when the town is all plowed and people can get around; and having the ice rink ready at Christmastime for the children with new skates."
Least favorite: "I am not a big fan of meetings."
Miss the most: "Being a part of the small town community on a daily basis."
Someone to thank: "I appreciate some of the good teachers at Aitkin High School who got me where I am today."
For his job, Nicko earned a commercial driver's license, a wastewater collection license and a boiler license.
He served as a Cubmaster for about five years, has been a volunteer firefighter for 26 years, was a member of the Central Minnesota Cattlemen's Association Board, was a supervisor on the Kimberly Town Board for two terms and is a past member of the Aitkin County Fair Board.
"I started the beef princess program and the educational beef show," he noted. "And I helped three scouts achieve their Eagle Scout award."
He enjoyed participating in the annual Minnesota Department of Transportation's snowplowing competition, where he always was in the top 25%, one year achieving seventh in the state.
In retirement, Nicko said he will turn his attention to the family farm.
"It is truly a family operation," he said. Calves on the farm belong to he and Pat (Christianson), his wife of 43 years, children, Lon and Sharon, daughter-in-law Nikki and grandson, Henry.
He said he also looks forward to woodworking and his hobby of collecting and restoring old tractors. He would like to do some camping and fishing and attend local events where he can show his restoration projects including stationary engines.
"It will be nice to actually participate in an event, rather than work on preparing for it," he said.
For anyone thinking of entering this line of work, Nicko recommended enrollment in the heavy equipment operators program at Central Lakes College in Brainerd or Staples.
Nicko's last day as street commissioner is June 30. A get-together will be held from 4-6 p.m. Wednesday, June 23 at the Aitkin Street Shop. A retirement party is also set for 1-4 p.m., Sunday, June 27, at the Aitkin County Fairgrounds.
What friends and colleagues had to say:
Rose Beverly, Aitkin city administrator for the last 10 months: "Bob's work ethic is second to none. It's hard to find that nowadays. He takes his job with the city very seriously and puts his all into it. I have learned a lot from him. He is a good team player and you can trust and depend on him to get the job done. He will be hard to replace."
Gary Tibbitts, mayor of Aitkin 2006-2020: "He is a very dedicated employee who is on call 24/7. He really stepped up the plate in the 2012 flood which was quite a project that summer. Area organizations could always count on him to be available."
Lorne Wikstrom, former engineer with TKDA: "I'm happy for Bob on his retirement and wish him the very best.  I truly enjoyed working with Bob and the city staff for about 10 years on many projects in the city of Aitkin. We did not always see eye to eye, but we got along very well for a couple of Finlanders! I can say that Bob has always kept the best interests of the city in mind. We had so many enjoyable visits talking about not only the work to be done but about many other things. I look forward to the next cup of coffee with Bob."
Terry Thompson, co-owner and general manager of Cuyuna Rolling Hills Golf Course, member of the Aitkin Police Department 1984-2014, the last two years as police chief: "Bob is a real asset to the city of Aitkin. We worked well together. He is definitely a hard worker and dedicated to the city. I did discover he was afraid of snakes."
Mark Wedel, current Aitkin County commissioner, mayor of Aitkin 1994-2006: " I had the honor of working with Bob during my five terms as mayor and also as members of the Aitkin Fire Department. Bob has earned my highest respect as a street superintendent in his unprecedented service and dedication to the city of Aitkin and all of the residents who live here.  Bob was a 24/7/365 public servant and his 'above and beyond' service will always be remembered.  He definitely mastered the skills of running a snowplow, mapping out the most efficient snowplow routes and passing those skills onto his staff. During Aitkin's downtown street project, Bob was instrumental in making that project a complete success.  His knowledge and common sense approach saved the city a lot of money while still completing a successful (albeit, sometimes painful) project. It was always fun to stop by the street department and have a cup of coffee with Bob and the crew during their few break times. In addition to our city-related affiliations, I have come to know Bob on a personal basis. I have gained the highest regard for Bob as a person, husband, father,  grandfather and friend.  Bob is one of the finest men I have ever known. His dedication, knowledge, skills and leadership can never be replaced but will certainly be forever appreciated and remembered."