Individuals and lake associations take action to protect the waters for future generations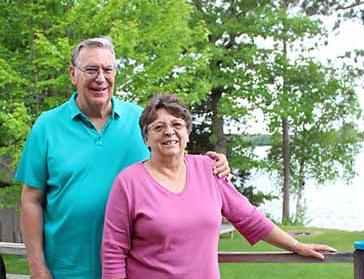 Walt and Dianne Weisser saw firsthand how devastating aquatic invasive species can be to lakeshore property.
During their years living at Lake Minnetonka, they saw the expansion of  Eurasian watermilfoil, for example. It got to the point on Minnetonka that harvesters were taking out milfoil and removing it, according to the couple.
In 1989, Walt and Dianne bought property on Lone Lake in Aitkin County. After the couple retired in 1994, they built a house at Lone Lake where they moved to in 1995. Wanting to leave their lake the way they found it for their descendants, they took action.
Walt had been a member of the Minnesota Lakes Association, but when he moved to Aitkin County, he found the county lakes association had been inactive for about five years. He partnered with Steve Hughes, district manager of the Aitkin County Soil and Water Conservation District (SWCD) and Paula West, former director of  the Minnesota Lakes Association to gather interest in renewing the county lakes association. That was the beginning of the Aitkin County Lakes and Rivers Association (ACLARA)  in 2005. Walt served as treasurer of ACLARA. He was also president for 12 years of the Lone Lake Property Owners Association and Dianne was the secretary.
"People on our lake didn't even know about Eurasian watermilfoil," Walt said. "We have been trying to maintain this jewel of a lake that ranks high in water quality."
 "Aitkin County receives the eighth most state funding based on the number of lakes with accesses in the county," Walt said. There are more than 300 lakes in Aitkin County.
Not only did Walt work to educate the public about invasive species through ACLARA, but the couple helped set up training by the Department of Natural Resources (DNR) of citizen volunteers to perform boat inspections. The Weissers and other volunteers spent three-hour shifts many summer weekends at boat landings until two years ago, when they turned over inspections to Aitkin County.
Taking Action
"We have learned not to fertilize near the water and to leave vegetation on the shores," said Dianne.
Near the Lone Lake swimming beach, a group of Lone Lake property owners, with help from the Aitkin County Soil and Water Conservation District, built a rain garden to stop road erosion going directly into the lake. Some residents at Lone Lake have planted willow wattle at the shoreline because it survives wave action. Willow wattle is a natural log made out of willow branches. The logs are staked in front of a damaged shoreline.  The log will break up the wave action as it hits the shore, thus preventing more damage.
If the shoreline is undercut and it breaks away, it will fall behind the willow wattle where it will catch the bulk of the erosion.  This keeps the shore from washing away. The other thing willow wattle does is to catch natural debris that washes to the shore.  The waves will wash it over the log but the undertow back out does not lift the debris back over the log.  This debris will naturally build new soil along shorelines as it composts.  
ACLARA
ACLARA represents 20 lake associations in Aitkin County. The current president is Pat Murphy, who previously served as the Long Lake Association representative for seven years.
The goals of ACLARA are to protect, preserve and improve the waters and shorelands of Aitkin County, enhancing aesthetic, economic and recreational values; serve as a voice of the membership to governmental bodies and agencies; inform and educate citizens in becoming more effective stewards of the water resources; connect and communicate with individual lake and river associations and with coalitions in Minnesota; support safety and courtesy in the use of county waters and shorelands and support compliance with all applicable rules and regulations.
ACLARA is available to help organize new lake/river associations in the county since not all lakes and rivers are represented.
"There's a big benefit to having a lake association," said Walt. "For example, once an association is formed, it has the opportunity of having the county participate in boat inspections."
Meetings are held in the Aitkin Public Library at 9:30 a.m. the second Saturday of the months, April through October. Annual dues are $25 for one representative and one or two alternates from the member associations. Individuals not belonging to a lake association may also join at the annual dues rate. The meetings are a time for members to discuss their association's issues and share ideas on lake and river management, water quality and conservation matters that impact the waters.
Those interested in getting more information on or forming a new lake association may contact Murphy at 218-549-3175.
"Who doesn't want to keep lakes, rivers and shorelands healthy for future generations?" Walt posed.
As always, stopping the spread of invasive species to other lakes and rivers protects habitat for native species such as sunfish and crappies. Overall lake and river health is better without invasive species. Healthy lakes and rivers benefit fish, wildlife and people. Remember, "Clean, Drain, Dry and Dispose."