Fifth grader Jackson Kingsley, brother, mom and grandfather travel to Nashville, Tenn. for 3-D archery competition
Hill City fifth grader Jackson Kingley, coached by Mark Meyer of Hill City,  had an exciting summer.
Kingsley advanced from the Regional 3-D competition in Duluth last winter to the National 3-D competition in Kentucky. From there, Kinglsey and the other top 100 grade-school boys from both the Kentucky and Utah nationals went on to compete at the Challenge 3-D Tournament in Nashville, Tenn.
Kingsley shot a 274 out of a possible 300 in the tournament, his personal best score.
The International Bowhunters Organization (IBO) 3-D Challenge is part of the Natioal Archery in the Schools program. The Open Championship in Nashville was held on July 25-27 this year.
Jackson's mom, brother, and grandfather drove the 16 hours with him to Nashville, to watch him compete.
2019 was Jackson's second year in archery and he has scored six first-place medals so far this year, said his mom, Sarah Kingsley.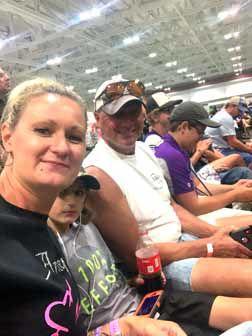 Jackson is the oldest of five boys. He loves the outdoors. He hunts, but so far has only hunted with a rifle, saving the bow for indoor competition. Sarah said of her son, "He is easy going and confident.
Next year Jackson will move into the middle school bracket for competition – he has been practicing all summer. Meanwhile, with four younger sons coming up behind Jackson, his parents have decided they will step into a coaching role at Hill City School. "The younger boys will probably go into archery too, so it only makes sense," said Sarah.
Jackson and his family want to thank everyone who sponsored his trip to Nashville. Family members supported him, as well as the Moose-Willow Gun Club, Hill City Lions Club and his coach Mark Meyer, who also travelled with Jackson to Nashville.