Jim Matteson is a musician; music is as natural to him as breathing. It's his gift and he loves to share it.
But there are other gifts that Matteson offers – ones of kindness and volunteerism, and of food and friendship and family.
For all of his efforts, Matteson has been named the Aitkin Independent Age 2020 Person of the Year.
The award is given to a person in the community who puts others above self, and improves life for others.
Matteson's music, volunteerism and dedication are all parts of why he has proven to be a popular part of the community.
Matteson was born in Illinois   and moved to Minnesota in the 1970s. He and his former wife, Paulette Spolarich Matteson, have four children: Jamahl, Talin, Shanai and Chesna. Jamahl, Shanai and Chesna all live in Aitkin County. Matteson has seven grandchildren.
One of the earliest bands Matteson played with was The Vigilantes. Early in the 1960s, the group played together with Matteson as its drummer.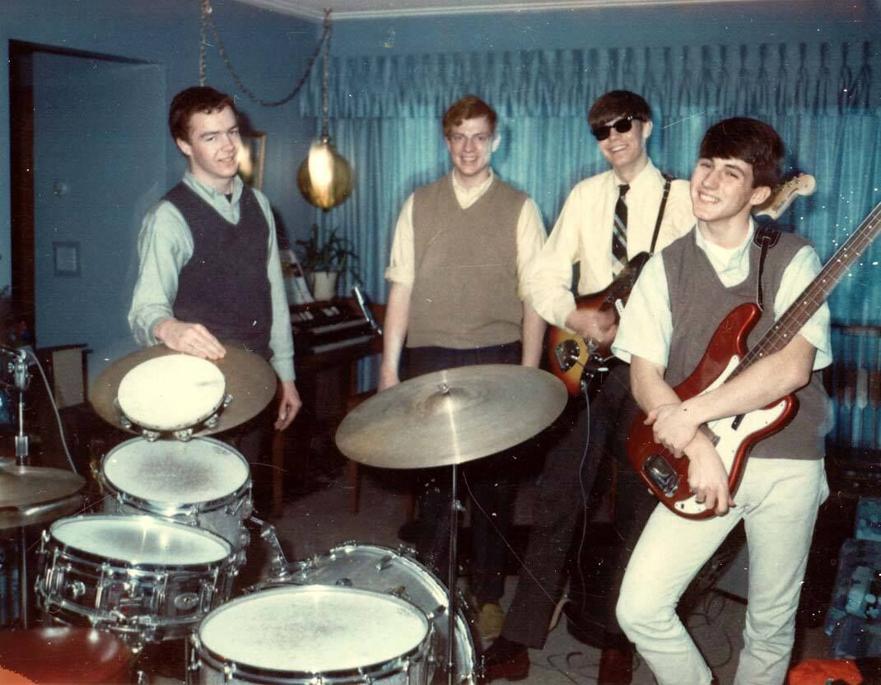 When Jim came to live in Palisade with his then wife, Paulette, he naturally connected with other musicians in the area, playing in a band dubbed C.J. and the Fozz at venues around Palisade.
C.J. was Charlie Carlson II, more recently the mayor of Palisade. Grant Sherman helped the band with technical assistance.
Carlson recalled, "I remember Jim's sense of humor; he liked to be called 'the Fozz' after the Muppet; at every event, at least once during the night Jim would tell a really bad joke. Fozzy Bear was a hero of his.
"Jim's a wonderful musician and can do a lot of different things," Carlson added. "We had a couple of really great years as roommates and musicians before I got married and moved in with my wife's parents."
Later on, Matteson played in a band called Crows in the Corn with James "Doc" Anderson and Dave Wilen of Lawler.
"Crows in the Corn was more like a club than a typical band," said Anderson recently. "We had a core group, but lots of different musicians played with us at different times. It was a blast."
Bob Marcum of Lawler was a lifelong friend of Wilen, and has known Matteson since he moved to Palisade. Marcum had this to say.
"Jim Matteson has my true admiration," Marcum said. "Jim is not the kind of guy who is just here to warm up chairs. Everywhere he goes he is looking for some way he can help."
"He is the most truly altruistic person I have ever met," he added. "Money is not the measure of what he values in the world."
Doc Anderson lives near St. Cloud now, but his folks had a cabin on Lake Minnewawa and he spent much of his time there. His grandfather's homestead was in McGregor.
Anderson and Matteson  first met through Dave Wilen when they were doing a Sunday evening gig at the Sheshebe Resort on Minnewawa. The performance  turned into a jam session, which Anderson said was pretty typical.
They also played at Pier 65 and other resorts around the McGregor-Sandy Lake area. Jim came and played with them a few times and became part of Crows in the Corn with Wilen and Anderson.
"Jim is a very talented musician," said Anderson. "He was a really hard worker. He's a funny guy and takes teasing and trash talking so well; never getting offended."
In recent years, Matteson has been playing with a group of semi-retired musicians who call themselves  The Sprung Chickens.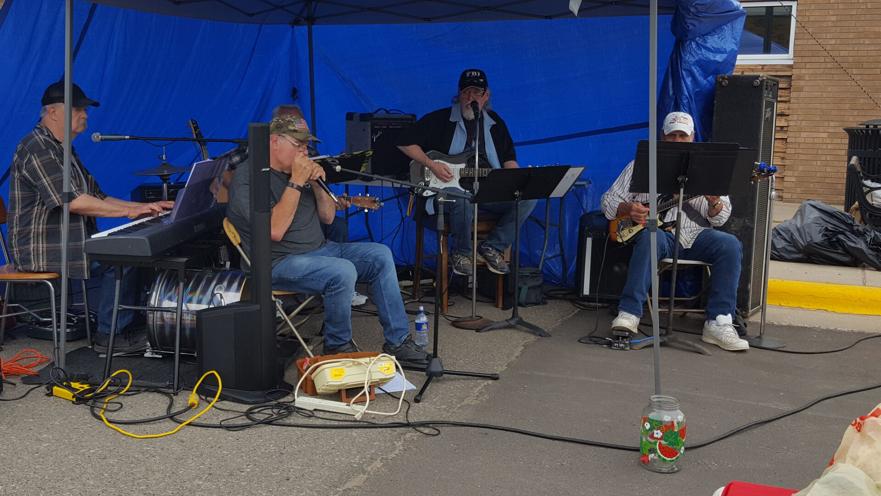 The Chickens get together regularly to practice and perform around the area. The group has been featured several times at the Aitkin Farmers Market, playing classic rock and country songs.
In 2017, Matteson was playing at the Beanery Cafe in Aitkin. He heard that the Aitkin Farmers Market wanted to feature local musicians and he offered to coordinate.
Matteson had a network of musician contacts and was able to arrange live music for both the Saturday morning and Thursday evening open-air markets.
He volunteered as music director for the market and continues in that role.
During the same period, Matteson's daughter was establishing an urban community garden in north Minneapolis. Matteson worked to establish that garden and started to think about how to get something similar going in his hometown of Aitkin.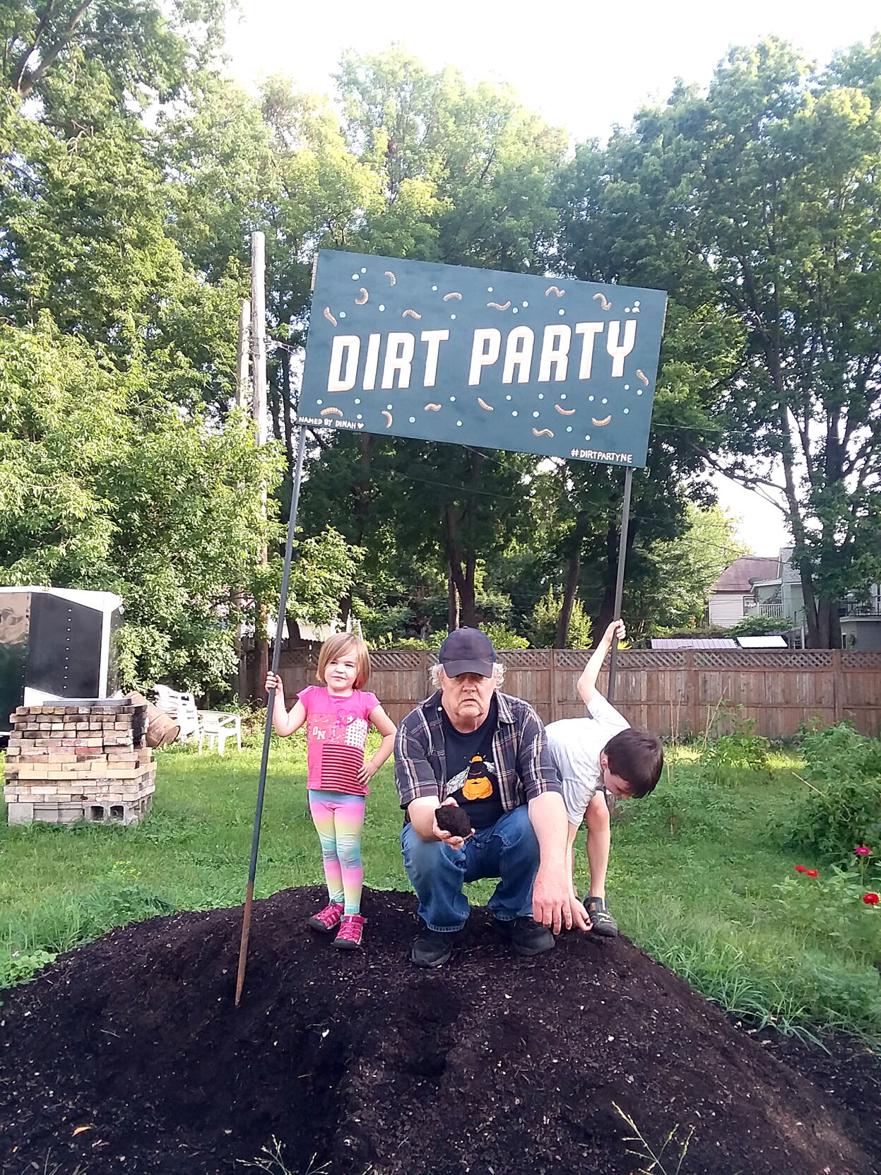 He attended a meeting of the Aitkin City Council in the spring of 2020, asking for space in the city to start a community garden. After an initial enthusiastic response from the council, COVID-19 caused closures and prohibitions to gathering. The time no longer seemed opportune.
However, behind the scenes, Matteson was raising funds, getting tools together and preparing to "Plant Aitkin" in the summer of 2021.
In the interim, Matteson has been working with Aitkin United Methodist Church's Clubhouse recovery program to get raised beds built and planted. Matteson was able to get surplus plants from Paulbeck's greenhouse for club members to plant in their new garden beds.
He also helped other gardeners with tilling and obtaining plant starts during the summer of 2020.
"Local food security is so important," he said. "I want to not only help get new public gardens started, but also help people who already have vegetable gardens make them  more productive."
Matteson has been part of the Aitkin County Meals on Wheels program as a volunteer for four years.
"When he first started volunteering, he did some other things," explained Lynne Jacobs, the executive director for Aitkin County CARE, which coordinates Meals on Wheels. "He kind of started by getting his feet wet, finding out what he liked to do.
"Meals on Wheels is something he absolutely adores," Jacobs added.
Mike Eisenbraun, a program director for Aitkin County CARE who oversees Meals on Wheels, said the first time he met Matteson, he knew he had someone special joining forces with the program.
"My prior job, I had worked in retail for 35 years," Eisenbraun said. "I was kind of a fish out of water. He set the bar pretty high on what a true volunteer really was.
"He acted like we'd been best friends our entire lives," Eisenbraun added. "There's just so much joy that he shares."
Perhaps the best way to sum up Matteson's personality is to point to all the work he's done. Matteson has volunteered to do everything from mowing lawns to giving rides to health appointments as needed.
"He's one of those people who walks in the door, and says, 'do you need a volunteer?'" Eisenbraun said, adding that Matteson can be quiet when he needs to be, but "he's not afraid to tell a joke when he needs to tell a joke."
Jacobs added, "he really connects with people. That's what makes him such a wonderful volunteer."
Matteson's route takes him to about 25 different homes every day, a 10-mile route that goes throughout Aitkin as well as a mile outside the city limits.
Eisenbraun knows that route will, on any given day, take about a half hour longer than other drivers.
"That's because he's interacting," Eisenbraun said. "He knows each one, and if he has any concerns, he lets me know."
When the COVID-19 pandemic hit the area in March, Aitkin County CARE shut down a number of programs.
"Initially, in the middle of March, most of our programs shut down – with the exception of Meals on Wheels," Jacobs said, adding that drivers stepped up and came up with a plan to keep deliveries and pickups clean.
"Jim was one of the ones who came right to the office and said, 'I have an idea,'" Jacobs said, adding that Matteson worked to establish a setup in vehicles that separated the pickups from the deliveries, and also put together his own cleaning solution so that the drivers could reuse gloves.
"He was that type of proactive (person)," Eisenbraun said. Jacobs added, "he did that because of the people he's delivering to."
Jacobs added that Matteson's love of communicating with the Meals on Wheels clients also helped this year as those clients were dealing with isolation on top of the pandemic.
"I think that interaction is really important for all of them, from the clients to Jim," she said. "I think that is critical, for both of them."
Matteson's work, though, isn't confined to delivering meals. In 2019, CARE decided that members of the organization were going to go caroling at all the senior centers in Aitkin County. Eisenbraun asked Jim to be a part.
"Jim has been around music all his life," Eisenbraun said. "He had his keyboard. Instead of using sheet music, he just made the notes up, got it in a key he liked – and just played the music."
Jacobs added, "He lugged that thing around. He was definitely the leader of our group."
Both Jacobs and Eisenbraun said that Matteson is the best example of a volunteer – one who puts service above self.
"Jim's never been in it for himself," Eisenbraun said. "He's always been in it for someone else. His reaction will be one of humility, and one of, 'aw, I'm just trying to be that bright light.'"
Jacobs agreed with Eisenbraun.
"He will be surprised. (But) he's very well deserving," she said. "He exemplifies the true meaning of the spirit (of volunteerism)."