Laverne "Bob" Beavers, a navy veteran, received a home makeover from the Lend A Hand program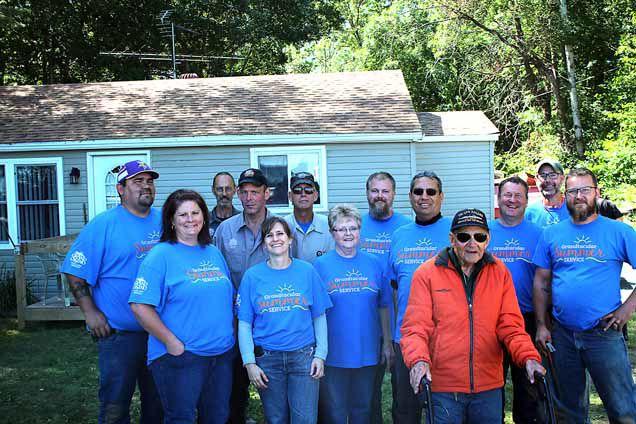 Bright orange traffic cones and a slew of vehicles marked Bob Beavers' home south of Garrison throughout the day on Wednesday, Aug. 28. As this year's recipient of help from the Grand Casino Mille Lacs' Lend a Hand program, Beavers saw a number of renovations performed across the whole of his property.
Bob Beavers
Beavers, 93, served onboard the destroyer USS Colhoun during the second world war for over two years, and fought all over the Pacific. He served as a 40mm gunner.
After a long battle with Japanese kamikazes, Beavers sustained serious injuries from kamikaze bomb shrapnel, and the Colhoun was irreparably damaged and sunk.
Beavers and his fellow crewmen received purple hearts for their service.
Upon arriving home from the war, Beavers learned welding and heavy equipment operation, and worked at several jobs, including railroad and sewer work, and McDonald's.
Bob and his late wife of 41 years, Marlys, lived in Garrison for many years.
Bob repeatedly thanked the 22 employees of Grand Casino who were able to work on his house for the day.
"They're the greatest people on Earth," he said.
Lend A Hand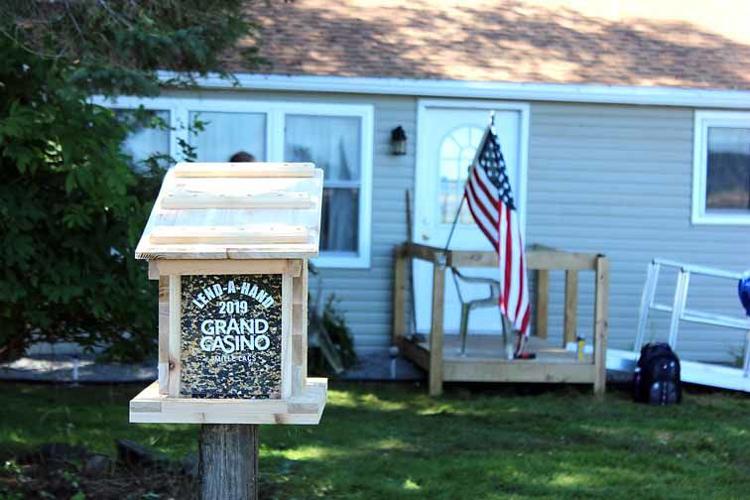 Todd Christopherson, vice president of facilities at the Grand Casino, explained the origins of the Lend a Hand program, as well as how Beavers came to be this year's recipient.
The Lend a Hand program, Christopherson explained, first got its start 15 years ago.
"We were asked as a department what we could do to help our community," he said.
At the time, Extreme Home Makeover had been a popular television program.
"With the tradespeople we have, carpenters, painters, electricians and housekeeping associates," he continued, "We thought, 'Well, we can't do an extreme makeover, but we could play handyman for a day to make a difference in somebody's life."
That first year, the casino found a community member they felt was deserving, and ten workers went out to do work at the house. The program has continued yearly and now has 20-30 casino associates who contribute to the work.
"We don't have any lack of volunteers," he noted. "We have more people volunteer to help each year than we need."
Around ten local businesses have also begun to contribute to the work, including Nor-Son, Sherwin-Williams and Jim's Mille Lacs Disposal. Donations to also came in as the project neared completion, including Sherwin-Williams, John Otis Electric and Builder's FirstSource.
"The program gets bigger and bigger every year," Christopherson added. "We just might get to the point of Extreme Makeover."
This year, the program had around 16 nominated applicants, which were eventually narrowed down to Beavers. "They all need the help," Christopherson said, "so we try to narrow it down to who we can do the most good for in an eight hour period with 20-30 people." Later, he added, "We'd like to help everyone, but we just can't."
The work at Bob Beavers home included putting up new siding, painting the house, replacing windows around the property, and revamping the landscaping. Over the two days prior to the renovation, casino associate John Otis (who also does work locally as an electrician) had also gone in and replaced Beavers' electrical systems.
Tracy Klinedinst, communications specialist with Grand Casino, explained that the need for work at Beavers' place had first been noticed when Otis had come to do electrical work at the house at an earlier date. Otis had reached out to Beavers' friend, VFW volunteer Karen Miller, and suggested that Beavers be nominated for the Lend a Hand program. Otis and Miller then helped organize Beavers' nomination.
Over Lend a Hand's 15 years, Christopherson said the work they offer has yet to be turned down.
"We plan to continue as long as we can, and we hope the program gets bigger and bigger… I've watched it get larger since the beginning."