University Extension, Sustainable Farming Association and Natural Resources Conservation Service educators provided educational sessions to local resource professionals, farmers and ranchers at recent Silvopasture Camp
The 2018 legislative session resulted in $750,000  being earmarked by the Legislative and Citizen Committee for Minnesota Resources (LCCMR) for an important environmental initiative having benefits to livestock, farmer/ranchers, waterways and rural economies.
The project, called Promoting and Restoring Oak Savanna Using Silvopasture, led by Extension Educator Diomy Zamora, aims to restore a once common ecosystem, oak savannah, to the Minnesota landscape with help from private landowners.
Oak savannah is an example of a landscape that includes mature trees spaced out across grasslands or open lands, providing shade, windbreaks and grazing opportunities for small and large ruminants and poultry.
Grazing animals also help control invasive and noxious weed species, reducing the need for herbicide applications.
As world population increases, the need for more productive and sustainable use of the land becomes more urgent. According to the United Nations, more than 7 billion people populated the Earth in 2011 and this number is expected to go up to 9.3 billion by mid-century. To meet the demand for food by 2050, production will have to increase by over 60%. These figures, coupled with current problems borne out of past and existing non-sustainable land use practices, provide the case for changing the way we manage lands and our production of agricultural and tree goods.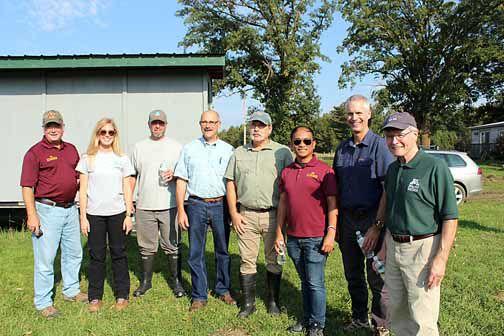 Silvopasture (see sidebar) workshops ("camps") like this one around the state will educate local resource professionals and technical service providers about the benefits of silvopasture, so that they can disseminate the information to local producers.
Aitkin County graziers Joe Gans, Jane Jewett and Lynn Mizner are early adapters in this area, having established silvopasture already on their farms.  After the classroom sessions at Long Lake Conservation Center on Sept. 16 and 17, participants travelled to local farms to see silvopasture being implemented, and to make recommendations to the ranchers about how they might enhance, improve or expand their existing silvopasture projects.
Participants observed cattle and sheep grazing and discussed how the animals might benefit from rotational grazing in a savannah-like system.  The savannah-like system created by silvopasture projects was contrasted to the often-seen situation of cattle just hanging out in the woods, degrading both forest and pasture in the process.