APT to build new processing plant in the McGrath area
By 2025, American Peat Technology's (APT) VP Sales and Research Peggy Jones and CEO Doug Green said a new peat processing plant northwest of McGrath will be constructed and ready to refine reed-sedge peat into their products, BioAPT and APTsorb.
The new McGrath facility (to be built on land acquired from an exchange with the county), plus the hundreds of acres of peatland to be harvested nearby, will create 25-40 new jobs and will "hopefully" produce just as much product as the existing plant, if not more, although it's still "an unknown," said Green. If hopes are realized, this would double APT's capable output of BioAPT and APTsorb.
BioAPT, which makes up more than 99% of  APT's production and sales, is used for the cultivation of soybeans, lentils and peanuts.
BioAPT is a carrier for nitrogen-producing bacteria called rhizobia, which attach themselves to the roots of legumes to fix nitrogen for the plant, in exchange for the nutrients the plant provides the bacteria.
Canadian farms are the largest users of BioAPT.
APTsorb, the second largest product from APT, is used in water filtration to remove heavy metals. According to Green, automobiles leave small levels of these contaminants behind as they travel. After a rainfall, they can make their way into rivers and other bodies of water.
In the Aitkin area, this contamination is almost nonexistent. In heavily populated areas, however, it becomes a problem.
A filtration system attached to the Paulbeck's grocery store parking lot is a testing unit for APT's APTsorb product (Green emphasized that the lot was not a source of concern, but was only chosen for proof of concept due to its comparatively higher traffic levels) According to Green, traces of heavy metals exiting the filtration setup are nearly "undetectable."
A plating company in Michigan has become a user of the filtration system. Contaminants escaping the plating area via footwear can be caught before they reach the ecosystem.
Both BioAPT and APTsorb are vastly different than peat moss and not to be confused, emphasized Green.
New Equipment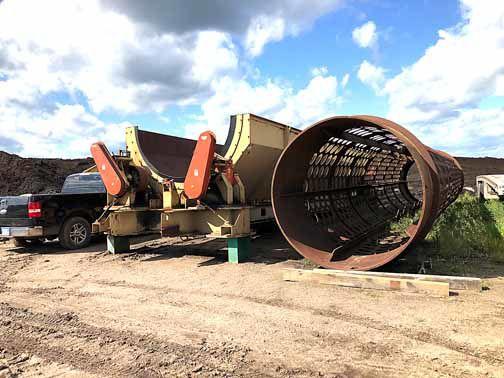 In addition to the new facility, APT has purchased pieces of a flotation platform, which will be used to shift the potential harvest season from winter to nearly year-round.
Currently, Green explained, the company relies on cold winters to access the peatlands they harvest. APT builds winter roads across peatland to support trucks that haul peat. If the bog doesn't freeze enough, roads can become difficult and it burdens the collection process.
Now, with the addition of the floating platform, excavators and collection equipment will be able to traverse open water and operate during the warmer months that had previously seen very little activity in the field.
With the new collection season comes a new transport method as well. Winter collection relied heavily on truck transportation to haul the peat from the harvesting area to the processing plant. In the near future, APT will be installing two pipelines between the two areas: one to feed the peat slurry to the plant, and another to feed the peat-less water back to the area it was pumped from.
In this way, APT reduces its footprint on the ecosystem of the bog.
Green said that the new method will be something of an experiment. Pumping slurry directly to the plant will be a new practice in the peat industry, though it could become a standard one if done successfully.
"I don't see why it wouldn't work," said Green.
Jones clarified that the new pumping system would replace the trucks, and that overall production would stay within the boundaries set by market demand.
"More of a change in harvest method, rather than increase [in harvest volume]."
Ecological Impact
Aitkin County has around 250,000 acres of peat land within its borders, according to a DNR database on the subject. Of that, APT has harvested around 43 acres since its incorporation in 2003.
After harvesting an area, APT plants grasses, wild rice and other native vegetation to restart the peat-production cycle, which takes hundreds of years.
Even with a several-century-long growth cycle, every year over six times more peat is accumulated than harvested in the county, which makes it a sustainable and renewable resource for the community.
"APT is a home-grown company," said Jones, "Many of our investor-owners are local people who saw a good idea and wanted to get behind it. We know that APT is strong if Aitkin is strong, so we have made a conscious decision to support this community."
APT sponsors various projects in the community, including the horse barn at the fairgrounds, two scholarships every year for the Aitkin Dollars for Scholars and community activites, such as golf tournaments.