The idea behind Minnestalgia was a dream in the making.
Rewind 30 years. Jay and Lori Erckenbrack are sitting around the kitchen table plotting their future. They had both worked in a local wild rice processing plant, but the business sold. It was then they conceptualized providing a "taste of Minnesota with a hint of nostalgia," according to Jay.
The idea behind Minnestalgia was a dream in the making. The Erckenbracks began attending natural food shows and envisioned a food business based on the idea of "a trip to grandma's house, where grandma is in the kitchen making homemade jellies and jam," said Jay. "Five years later, we completed that childhood memory with a visit to grandpa, who is in the basement making a batch of homemade wine. That's where the nostalgia came into play. The wine business was nostalgia by the glass and the food business was nostalgia from the jar."
The Erckenbracks installed a stone mill and began milling wild rice, which they added to their northwoods product line, offering both locally grown lake and cultivated wild rice along with a wide variety of wild rice products, including flour, polenta, soup mixes, panbreads and pancake mixes. They've featured nine varieties of berry syrups, six berry jellies, five berry jams, five pepper jams, maple syrup, maple sugar and six flavors of whipped honey. All of their products are made from fresh, locally obtained ingredients.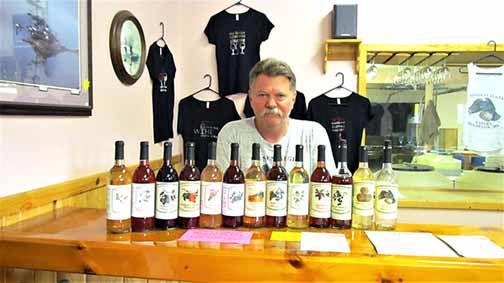 According to Jay, choke cherry has been the best-selling jelly while the most popular wines are raspberry, blueberry and strawberry in that order. In an episode of WCCOs "Goin' to the Lakes," their lingonberry wine was sampled, which caused people to drive all the way up from the Twin Cities for a bottle of the uniquely flavored blend. At present time, the lingonberry wine is sold out!
Jay reminisced about one particularly busy season when Minnestalgia provided a Minneapolis-based chain store with jam, jelly and wild rice gift crates during the holidays. These gift packages were sold from 113 stores in a five-state area. "During that season, we used an astounding 43,300 pounds of choke cherries alone to meet demand!" exclaimed Jay.
Minnestalgia also features gifts, cabin décor and artwork, all made in Minnesota, of course. The products have been distributed to a few local retailers and nationally over the Internet, which Jay says is a huge part of their business. "Some days the volume of Internet sales exceeds those of the walk-in receipts," notes Jay.
Recently, with Jay facing some health issues, the couple was compelled to reevaluate their future. Ultimately, they made the decision to close the retail businesses the couple has been running for half their lives. "Life happened here," said Lori. Many friendships were formed over the years and employees were considered family. Loyal customers have always been welcome and appreciated.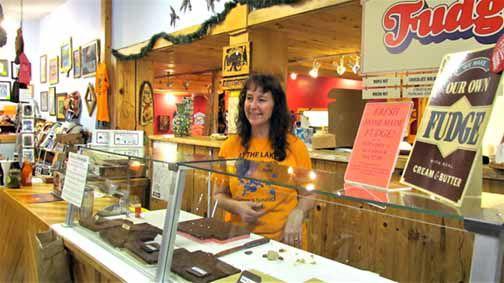 While the building has been sold, the Erckenbracks plan to continue to provide some of their unique and more popular food products such as the wild berry jellies, jams, syrups and wild rice at local retailers. The products will be available at Paulbeck's in Aitkin and Ukura's Big Dollar and The Roasting House in McGregor. They will also continue selling these items online through their website, www.minnestalgia.com.
Closeout sales are underway and continued throughout Labor Day weekend during the town's Wild Rice Days celebration and beyond. Minnestalgia anticipates it will be closing its doors on the retail businesses in mid- to late-October.