The final touches are taking place at the new Aitkin County Government Center located on 2nd St. NW, Aitkin, Administrator Jessica Seibert reported at the regular board of commissioners meeting on Oct. 8. The public is invited to a ribbon cutting ceremony on Nov. 1 at 4 p.m.
Employee recognition
Two county employees were recognized with an award for reaching 25 years of service: Pamela Karnowski, case aid in the Health and Human Services Department Child Protection Unit; and Sheriff Dan Guida.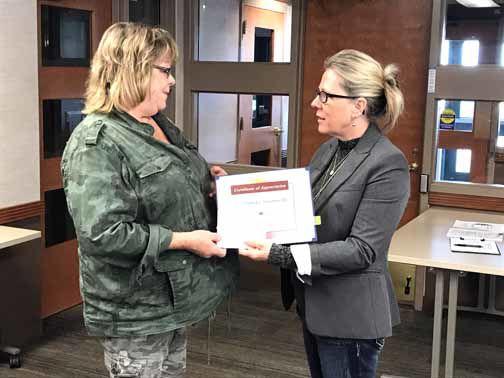 Karnowski has coordinated the Friendship Club Program and the volunteer driver program. She served on the AFSCME HHS unit bargaining team for several years.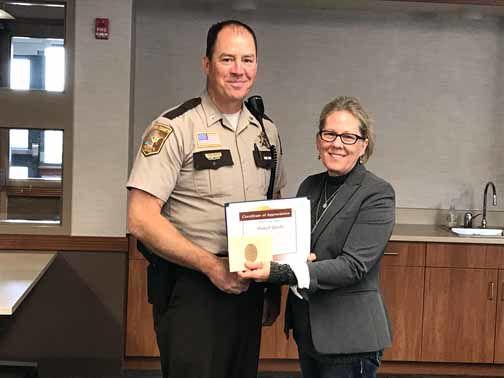 Guida has worked in several positions in the Sheriff's Department, including deputy sheriff, boat and water patrol, patrol sergeant and sheriff. His experience also includes serving in the Army, and the United States Air Force. He also mentors youth, helps the elderly, volunteers at church, veteran and other service organizations in the community.
Aitkin County Board briefs
• A property tax payment variance policy was adopted. Refunds will only be processed if over-paid by more than $10 (unless requested by taxpayer in writing), and for taxes short by $10 and under to be written off.
• The board approved purchasing smart boards totaling $15,527.
• The board approved clearing and grubbing the newly-acquired right-of-way on 3.2 miles of Hwy. 3 from Rat Lake area to Hwy. 65 under a separate contract. This is to eliminate the possibility of further project delays due to tree clearing restrictions for the Northern Long-eared Bat. The low bid from R.C. Habeck Excavating, LLC, Wahkon, is $243,107 (37.8% over the estimated cost).
• A portion of old Hwy. 3 was reverted to Logan Township.
• Seibert attended MACA conference where she spoke on a panel of three administrators about county organizational structures. She also attended a workshop, Keeping Top Talent. According to Seibert, 40% of 2017 employees quit within 12 months of being hired, and half quit within the first 90 days.
• A new county logo was approved.