Aitkin Area Chamber of Commerce and Aitkin County Growth hosted the second annual Legislative Luncheon at Long Lake Conservation Center on Oct. 3.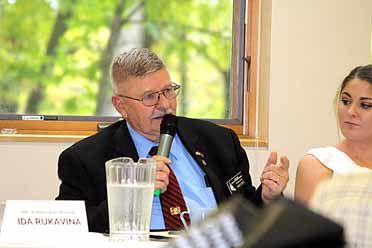 Aitkin County Growth Executive Director Barb Carr moderated. Panelists were State Sen. Carrie Ruud, Rep. Dale Lueck and staff from Congressman Pete Stauber, U.S. Sen. Amy Klobuchar and U.S. Sen. Tina Smith's offices.  
"You are our representatives working on our behalf at the state and national level. We are your partners in driving economic development to our region. The people in this room represents, the backbone to a thriving Minnesota. So let's take some time to consider what will bring success to our region," Carr said.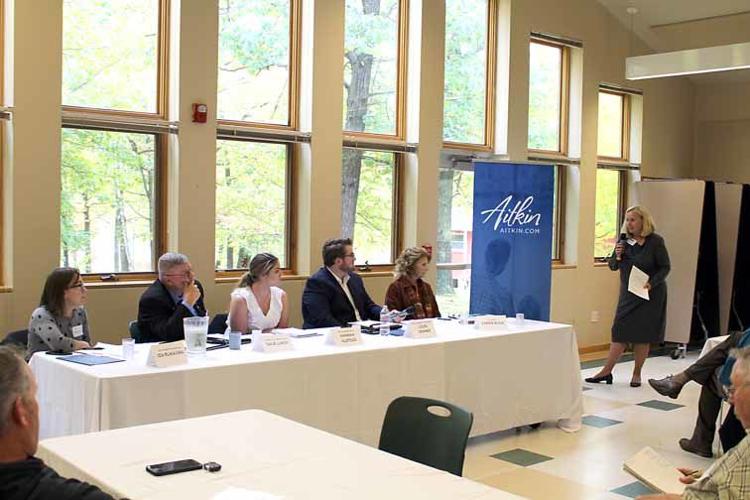 The discussion included questions on broadband, daycare, permitting, Enbridge Line #3, substance abuse, housing, mental health treatment, job training, and natural resources –based economic opportunities including forestry, mining and outdoor recreation.
Panel Q&A
1. As you spend time with representatives from around Minnesota and other states and listen to their ideas and bills, what three things would help Aitkin residents succeed and make Minnesota the place to work?
• Regional Outreach Director Ida Rukavina of Klobuchar's office said broadband, education, skills and workforce training, and infrastructure would help residents succeed.
• Lueck said technical education at the high school level, broadband, and development of natural resources such as timber, mining and tourist industries would drive jobs in the area.
• Smith's staffer Hannah Aldrich said broadband, transportation and housing.
• Louis Crombie, field representative for Stauber, said the Enbridge pipeline would bring high-quality jobs and tax revenue to the area, and spoke of the importance of educating people to get into high-quality and high-paying careers.
• Ruud said workforce housing, specifically for manufacturing and health care jobs.
2. Our recent housing study shows the city of Aitkin has over 21% of workers traveling more than 25 miles to get to work.  As a rural community within an Opportunity Zone, we want to compete for housing tax credits to solve our housing needs. The current housing tax credit gives points for transportation.  There are many people supporting transportation needs in the metro area under the Metropolitan Council. For Greater Minnesota to receive points, a route must be available Monday-Friday and provide service every 60 minutes for a minimum of 10 hours per day. This unattainable point system causes rural communities to lose points and cannot compete fairly for housing tax credit funds. Should there be a program like the Metropolitan Council for rural communities in support of transportation needs or can we eliminate this transportation requirement from the process to access housing tax credit? Better yet, can we receive bonus points for being in an Opportunity Zone toward solving our housing needs?
• Lueck said those who choose to live in rural Aitkin County can expect to face some level of transportation issues. He will look into the calculation for the housing tax credit.
• Ruud said there is a metro/rural divide, and that many policies that work in the metro do not work for Greater Minnesota, such as the new policy rolled out by the governor calling for new vehicle emissions standards. "We have to be very careful that the policies we have don't hurt rural Minnesota," she said.
• Rukavina said Klobuchar's office is looking into the transportation requirement issue. She also noted there are programs available for home developers through the USDA.
3. Permitting provides the rules any organization can follow to do business in Minnesota. What's the right way to interact with business using a permit process?
• Crombie said there needs to be a balance on supporting businesses, increasing economic development and protecting the environment.
4. I recently connected with the owner who brought an Adventure Park to Silver Bay which grossed $250,000 in the first quarter. This is one solution for businesses that are looking to create a year-round tourism season. What would you like to see happen in Aitkin County and how important are the trail systems and their impact on tourism dollars?  
• Aldrich said Long Lake Conservation Center is a great tourist attraction, and spoke of the importance of educating youth about the environment, as well as adults and college students.
• Crombie spoke of the importance of ensuring rural cities and counties have the resources to groom and maintain trail systems to attract people the the area.
• Ruud said she is a big proponent of the trails, and worked with the Crosby area on the Paul Bunyan Trails. She encouraged Aitkin County to find its own niche, like the mountain bike phenomenon in Cuyuna. "Trails are connecting communities, but you need to find what makes your community special," Ruud said.
• Lueck noted that Aitkin County has 212,000 acres of public land. "Most of the public land is used for timber harvest, which it should be, but there are other recreational opportunities yet to be explored," Lueck said. He said while Aitkin County shouldn't rule out any version of trail use, whether it be motorized, non-motorized, ATVs, snowmobiles and more. "All are business opportunities," he said.
• Rukavina said the recreational trails program is ensuring funding for trails goes to the trails. She also noted there is opportunity to draw tourism because children in the metro have a "nature deficit" and don't have the same exposure to nature offered in rural areas.
5. Mille Lacs Energy was recently awarded funding for a broadband grant at the federal level for two townships in Aitkin County. What would widespread high-speed internet do for the communities in Aitkin County? Do you feel enough is being done in broadband?
• Rukavina said not enough is being done because there is a gap between rural and metro. According to her, broadband allows children to succeed in school and do their homework, and affects seniors, and Realtors say broadband access is a dealbreaker when selling homes.
• Lueck said the two-year budget has $4 million allocated toward broadband, which is more than in years past.
• Aldrich said Smith's office is pushing for change to the 2017 tax. Providers had an opportunity to apply for federal emergency funding following storms last season, but this may put many cooperatives tax exempt status at risk if awarded.
• Ruud thanked federal partners in helping address the broadband issue in rural areas.