A life-saving recognition event was held on Oct. 7 in Palisade
It was New Year's Eve, 2017. Mark and Denise Dvorak, Minnetonka, were at their cabin on Gun Lake in Palisade. They were looking forward to watching the Minnesota Vikings' playoff game with their neighbors. Denise was relaxing in her chair flipping through channels on the television, while Mark went out to briefly check the appetizers he was preparing on the grill. Upon Mark's return, he found Denise slumped over in the chair – unresponsive.
Mark immediately called 911 and began CPR on his wife. He relied on the skills he had learned back in ninth grade in a high school class. The Dvoraks' neighbors, Gary and Lisa Kalla, provided encouragement and support while awaiting medical help. The 911 operator remained on the line, instructing Mark to continue chest compressions. "I was starting to panic because at one point, Denise was turning blue," said Mark, emotions welling as he relived those long moments as he worked to resuscitate his wife.
Within approximately 15 minutes, emergency responders began arriving on the scene. They placed Denise on a ventilator and also used a defibrillator. She was transported by ambulance to Hwy. 210 to meet the Life Link III medically-configured helicopter and flown to St. Mary's in Duluth, a trauma hospital. Before the helicopter even lifted off, Mark and neighbor Lisa departed for Duluth. "It was a long ride, not knowing if Denise was alive or not," said Mark. "The Life Link III would arrive in 20 minutes while it would take me over an hour to reach the hospital."
Upon arriving in Duluth, Mark was relieved to find out that Denise had survived, but she was in serious condition. Denise's diagnosis was not definitive. It was believed her lower heart chambers slowed then stopped beating. "Every test showed there was no blockage and her heart was healthy," explained Mark, "so the doctors were a bit baffled."
Denise remained in the Intensive Care Unit for six days and in the hospital for approximately one month. "A pacemaker and defibrillator were implanted to prevent another cardiac event," explained Mark. "If something would happen where the pacemaker could not correct Denise's heartbeat or rhythm, the defibrillator will shock the heart back to rhythm." Denise was then transferred to the Courage Kenny Rehabilitation Institute in Minneapolis where she underwent in-patient therapy, then continued as an out-patient until April.
The Dvoraks were told less than 10% of people who experience a similar cardiac event survive. Thanks to the expertise and care of her heroes, Denise was extremely lucky to be alive and well.
Meeting her heroes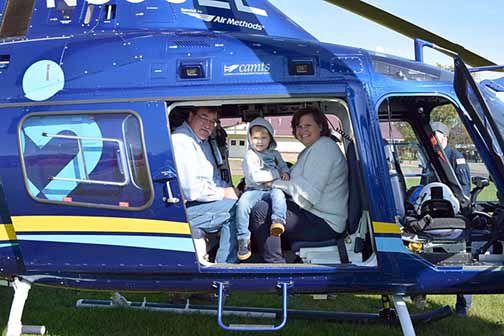 A Life-Saving Recognition event was held on Monday, Oct. 7, at 11 a.m. at Gabby's Restaurant in Palisade. Life Link III Community Outreach Coordinator Kaitlyn Roach and Aitkin County Sheriff Dan Guida worked together in organizing the event.
Emotions were palpable as the Dvoraks greeted the emergency responders one by one upon their arrival and as the Life Link III landed in the lot next to the restaurant. The Dvoraks and their grandson were able to sit inside the helicopter as the flight nurse explained to Denise where she was positioned within the unit on her journey to Duluth.
The Dvoraks' sons, Nick, Matt and Rick, along with grandson Mason and neighbor Gary Kalla were in attendance along with Denise's heroes, including Preston Lee and Tori Fredrickson, McGregor EMTs; Alexander Nistler, McGregor EMR; Drew Olson, Minnesota State Trooper; Angela Teckemeyer, flight nurse; Melinda Vrchota, paramedic with North Ambulance and Neal McCafferty, Life Link III pilot. There were others who also assisted but were not able to attend the recognition event, including Bryan Mayotte, flight paramedic; dispatcher Melissa Blazek, Deputy Nathan Parenteau and investigator Sheryl Cook.
The Dvoraks expressed their deep gratitude to each individual for providing their expertise and care. "I just want to say thank you again and let you all know how much it meant to us to be able to meet you," said Denise. "Mark and I, along with our sons, thank you with all our hearts. It's comforting to know that we have great emergency personnel in and around the area who can handle a 911 call as serious as mine. If I didn't have each and every one of you there helping out that day in one way or another, I don't know if I would be here today."