The fifth annual Building Effective and Collaborative Organizational Networks (BEACON) event was held on Oct. 3, at Long Lake Conservation Center. There was a record attendance of 80 staff representing 40 agencies who gathered to connect and share information about community resources. Last year, approximately 60 staff members from 37 agencies attended.
Kari Paulsen, career counselor of the Northeast Minnesota Office of Job Training; Aileen DeMenge, Good Samaritan Outreach; Luke Christensen, career counselor at AEOA; and Amanda Voller, career counselor, Northeast Minnesota Office of Job Training organized the event.
According to Paulsen, the event allows for agencies to network and collaborate in ways that will help families and communities in Aitkin County grow and prosper.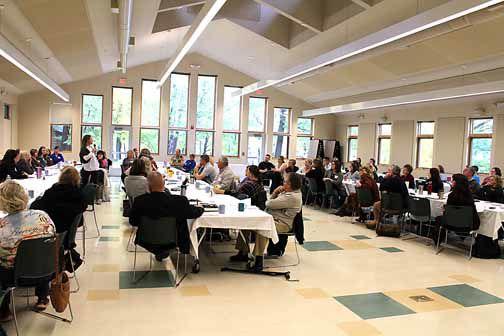 "Sometimes the toughest thing about solving a problem is simply connecting people with the right service that can provide the needed assistance. Services are available to assist individuals with health, income, mental illness, senior services, addiction, shelter, education and nutrition-related issues. This event provided an excellent refresher on the portfolio of services that are available to those who need assistance. Well done to all involved," Rep. Dale Lueck wrote in his legislative report after attending the event.
BEACON will be held again next year.