Nuisance bears apparently have been a particular problem this summer.
A year ago, on April 29, a bear got to our bird feeders so this year, I decided to be pro-active and began taking the feeders in on April 8. Trail camera pictures revealed that this was a good idea as a bear showed up two nights later. A rule of thumb we used to tell people with this problem, was to take them in for two or three weeks (or not to feed birds at all).
I took the feeders in every night until May 12 when I left them out. Two nights later, the camera revealed a sow and two small cubs got the feeders, so I have been taking them in every night since then and will continue for several more weeks.
Here is what the camera has revealed since then:
June 7 – sow and two cubs; July 2 – bear in one of my food plots; July 4 – sow and two cubs; July 27 – when taking the feeders in about 15 minutes after sunset, saw a sow and cubs; Aug. 22 – sow and three big cubs – also tore a branch down from an apple tree; Sept. 1 – one very large bear at the feeder pole; Sept. 18 – three bears.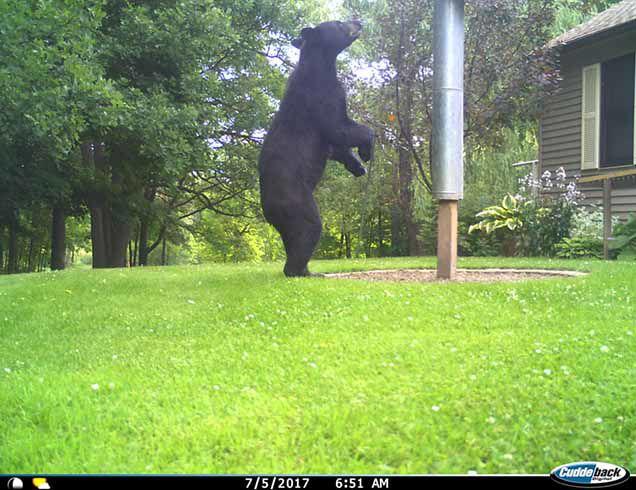 Even though there is bear hunting occurring every fall, it would appear that there is very little hunting around the immediate Aitkin city area. The permit area that includes Aitkin goes all the way east to Duluth and then south. Many hunters probably head to forested, public lands, rather than private land unless the private land owner gets a permit. It is a large area with 900 to 1,000 permits every fall with success around 30 to 40% each year.
The only way to successfully hunt bears in Minnesota is by baiting and there are those that think this is unfair – put a pile of food out and then shoot the bear when it comes to eat. It is not that easy. The hunter can only hunt from one-half hour before sunrise to one-half hour after sunset. Bears can come any time they wish and often they come during the night.
Speaking from experience, I have logged many hours sitting over bait without seeing a bear and the last time I did hunt, I never saw a bear. A hunting buddy of mine had a permit this year and logged 64 hours on stand before he saw a bear that he got! And that doesn't count all the time and miles he logged running the bait.
The season ended on Oct. 13 so it will be interesting to see what the final harvest was.