Department of Natural Resources confirms the plant is in several areas of the lake
For the second time in two years, an aquatic invasive species has been discovered in an Aitkin County lake.
As a result of the "Starry Trek" event in August, Eurasian watermilfoil  (EWM) was found in French Lake about 12 miles northeast of Aitkin in Fleming Township.
The Starry Trek was an event that trained volunteers to collect samples from area lakes in search of aquatic invasive species and specifically this year, starry stonewort. In all, 20 lakes were sampled in Aitkin County.
The discovery at French Lake was made Aug. 19 by the Starry Trek coordinator Penny Stiles, a Master Naturalist and University of Minnesota Extension AIS detector, and Janet Smude, district technician with the Aitkin County Soil and Water Conservation District (SWCD), a few days after the Starry Trek. The identification of the specimen was confirmed by Tim Plude, invasive species specialist with the Minnesota Department of Natural Resources (DNR) in Brainerd. Plude has since also confirmed that EWM is growing in multiple areas of French Lake.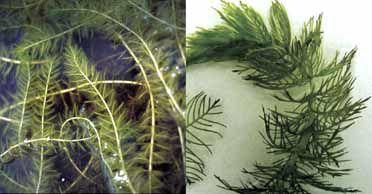 What is it?
Eurasian watermilfoil is a rooted, submerged aquatic plant. The leaves appear green while the stems are white to reddish. EWM is a perennial plant that flowers twice a year, usually in mid-June and late-July. It can grow up to 20 feet tall, but typically only grows three to nine feet tall. It creates canopy-like structures as it grows toward the water's surface. It primarily establishes through vegetative fragmentation—a fragment can break off, settle in the sediment, grow roots, and establish a new plant. The plant dies back in the fall, but the root system can survive the winter and begin growing again in the spring. EWM impacts: Dense mats at the water's surface inhibit water recreationists; overtakes habitat and outcompetes native aquatic plants, potentially lowering diversity; and provides unsuitable shelter, food and nesting habitat for native animals.
"The population of EWM was fairly extensive in French," said Plude, "indicating that it has been there for some time. EWM can create dense mats at the surface inhibiting water recreation. It could outcompete native vegetation and some critters may not find it as suitable for food or shelter. The water clarity in the lake limits plant growth in depths greater than nine-10 feet of water, so recreation should not be impacted in most of the lake but near shore boaters could experience difficulties motoring through the vegetation."
Plude said EWM infestation can be different on each lake, noting that studies indicate there is an ebb and flow with certain aquatic invaders like EWM.
Following the laws with regard to AIS is important, according to Plude. Those laws include cleaning watercraft of all aquatic plants and prohibited invasive species; draining all water by removing drain plugs and keeping them out during transport; disposing of unwanted bait in the trash; and drying docks, lifts, swim rafts and other equipment for at least 21 days before placing equipment into another lake.
Infested Waters List
Other than Mille Lacs Lake, the DNR's Infested Waters List for Aitkin County only lists Big Sandy with flowering rush (2008) and Big Pine with a zebra mussel infestation found last year.
"I think this discovery (at French Lake) highlights the importance of early detection of AIS and programs like U of M Extension's AIS Detectors," said Plude, "and although Aitkin County is mostly not infested, this is the second listing in two years for the county so everyone needs to follow the laws and do the right thing when boating and recreating on lakes."
As always, stopping the spread of invasive species to other lakes and rivers, protects habitat for native species. Overall lake and river health is better without invasive species. Healthy lakes and rivers benefit fish, wildlife and people. Remember, "Clean, Drain, Dry and Dispose."