Hunters planning to deer hunt in the Aitkin area, must be aware that Chronic Wasting Disease (CWD) testing is mandatory for all deer harvested in Zone 604 for archery, firearms and muzzle-loader seasons. There will be CWD sampling stations available during the firearms' seasons. To speed up the process at the sampling site, hunters are encouraged to have the head of the harvested deer face the rear of the vehicle.
Self-service sampling stations for hunters to provide heads of all adult deer one-year or older during the archery and muzzle-loader seasons will be available.
From Nov. 9 to 24, the sampling station in Aitkin will be located at the DNR Wildlife Office, 1200 Minnesota Ave. In Crosby, the site will be the parking lot 250 yards east of the Croft Mine Historical Park, 23150 Minnesota Hwy. 6.
CARCASS MOVEMENT RESTRICTIONS
Whole deer carcasses, including fawns, taken within Zone 604 must remain in the area until a "not detected" test is confirmed.
The following parts of deer may leave the CWD management zone before a "not detected" test result is confirmed:
Quarters and other portions of meat without any part of the spinal column or head attached
Meat that is boned out or that is cut and wrapped (either commercially or privately)
Hides and teeth, and ntlers or clean skull plates with antlers attached (no brain tissue can be attached)
Hunters living outside of the 604 Zone should secure a place to keep the carcass within Zone 604 until the test results have been completed. If a harvested deer tests positive, the hunter will be notified by the DNR.
There are several taxidermists in Zone 604 who can collect the sample of any trophy buck harvested, fulfilling the mandatory sampling requirement, before caping or mounting the specimen.
RULES TO FOLLOW FOR ZONE 604
Hunters must present all deer in person at a CWD sampling station for mandatory sampling during the firearms seasons on the same day it is harvested; fawns must be presented to confirm age and will only be tested upon voluntary submission. A special carcass tag will be attached to the deer to verify sampling and/or age.
Deer will not be registered as part of the sampling process; it is the hunter's responsibility to register his/her deer.
During archery and muzzle-loader seasons, hunters must submit the heads of all adult deer (one year or older) at a self-service sampling locations. Hunters will need to provide the township, section and range of your harvest location.
The time it takes to receive test results (usually about five days) for deer sampled for CWD will vary depending upon the number of samples collected. Process your deer as you normally would but keep processed deer separate and identifiable until test results are received.
Test results for all deer sampled will be available online at www.mndnr.gov/cwdcheck.
WHAT CAN I HARVEST?
Either sex with a regular license (only one buck).
Hunters may use a Statewide (A) or a Late Southeast (B) license during any firearms season.
In the north central CWD management zone DPA 604, hunters may harvest only one buck per year.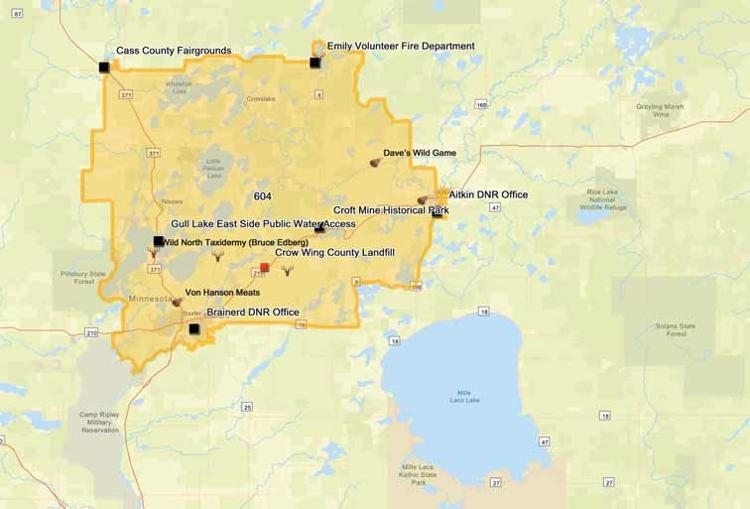 In Zone 604, hunters may harvest an unlimited number of antlerless deer by purchasing disease management tags for $2.50. These tags may be used instead of bonus permits to take antlerless deer in zone 604. See map.