Aitkin's American Jr. Legion baseball team played Breckenridge in the sub state finals July 29 at Breckenridge.
Results of the championship game will be published next week. With a victory, Aitkin will qualify for the 2019 American Legion State Tournament.
Aitkin waltzed into the championship series with a pair of 10-0 wins and a 3-2 victory over Upsala, July 19-21. The Jr. Legion opened the tournament with a 10-0, five inning win over Crosby. Caiden Kjelstrom tossed a two-hitter and fanned 13 Crosby batters. Jake Ince was one of the offensive highlights, hitting his first home run of the season. Also scoring for the Jr. Legion were Kjelstrom, Jon Blanchette, Hunter Hills, Logan Olson and Owen Miller.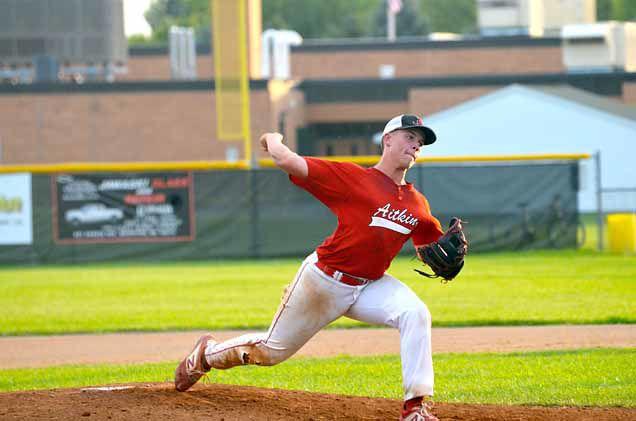 Aitkin 3, Upsala 2
In the most exciting game of the tournament, Aitkin defeated Upsala, 3-2. Tate Kuppich pitched 5.2 innings, allowing two runs on four walks and one base hit while striking out 12 batters. Jake Ince tossed the final 1.1 innings, striking out three of four batters.
Kuppich led the offense with a three-hit game, including a double. Caiden Kjelstrom scored a pair of runs while Owen Miller, Joey Simonson, Ince, and Anton Kalk all contributed base hits.
Aitkin defeated Breckenridge to reach finals
Logan Olson fired a shutout in game three of the tournament, allowing only two base hits and fanning 10 batters. Joey Simonson was 3-4 at the plate including an inside the park home run. Hunter Nissen, Jon Blanchette, Caiden Kjelstrom, Owen Miller, Tate Kuppich, and Anton Kalk each recorded at least one base hit.