Two-thirds of the planned renovations at Woock Field have been completed. Lights were turned on for night baseball in August, and installation of a new scoreboard was completed Oct. 9. A third renovation, installing tile to drain the outfield, was put on hold due to the wet fall weather; the project's completion will occur next summer after the baseball season ends.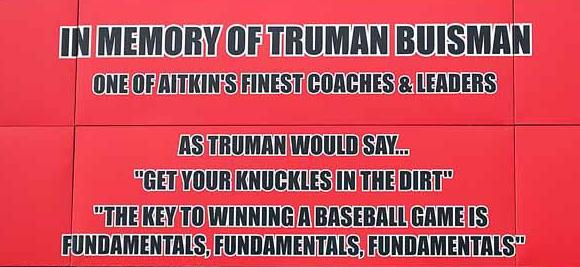 TRUMAN BUISMAN - 'CATALYST FOR AITKIN BASEBALL SUCCESS'
Legendary Gobbler coach, Harlan Truman Buisman, was memorialized when a new scoreboard was erected at Woock Field in October. A new scoreboard had been a dream for baseball coach Jeremy Janzen for years.
Gobbler baseball fans in recent years may recall that sometimes the old scoreboard worked, sometimes it didn't. If it was working, many of the lights were unlit.
Janzen had obtained numerous pledges for the scoreboard from members of the community before Ruth Ann Buisman (Truman's widow) expressed a desire to donate to the baseball program in Truman's honor. "When I told Ruth Ann about the project, she offered to purchase the entire scoreboard."
"It was a perfect way to honor a Gobbler legend. Buisman's teams (1969-1980) put Aitkin baseball on the success map, winning 102 games against 65 loses while capturing or sharing four Mid-State conference titles."
"I would call Truman the catalyst that cemented the program for Gobbler baseball. Back in the 1970s, the Mid States was a very good conference, and winning four titles in six years was quite an accomplishment. Truman cared about kids beyond baseball; many of the things he taught in health class will be with me forever. After we qualified for the state tournament in 2014, the next day I had a hand-written note of congratulations on my desk from him, it showed his love for kids, love for baseball and the love for his community. That note was something special," said Janzen.
The four ad spots previously committed to the scoreboard have been honored, but the money donated was used to purchase LED lights for another renovation project. Brandl, Paulbeck's County Market, 40 Club and the Quarterback's Club are acknowledged on the scoreboard.
Community businesses and volunteers helped to erect the scoreboard. Once the scoreboard was assembled, steel beams to support the massive scoreboard were purchased from TEMCO at cost. Jim Patwell from TEMCO drew up the plans to make the beams while welders Luke Weimer and Mark Unzeitig volunteered their time. Aitkin Public Utilities provided a bucket truck and employees Justin Handt, Nolan Joske, Jim Goettig and Dave Cluff raised and installed the scoreboard.
WOOCK FIELD DUGOUTS UPDATED
Along with the major renovations, the dugouts at Woock Field were given a face lift. Kellie Janzen painted the upper portion of the dugouts in red and black and repainted the home and visitors signs. Sentence to serve repainted the inside and outside portions of the dugouts.