On a night when Gobbler running back Austin Price had a career night rushing for 185 yards, carrying the ball 37 times, it was the Gobbler defense that should get an equal amount of accolades.
The men in the trench limited the Ranger running attack to minus nine yards rushing, leading Aitkin to a 30-6 homecoming victory and returning the coveted Stump to Aitkin.
The Gobbler offensive line and lead blocker Hunter Nissen also deserve a lot of credit.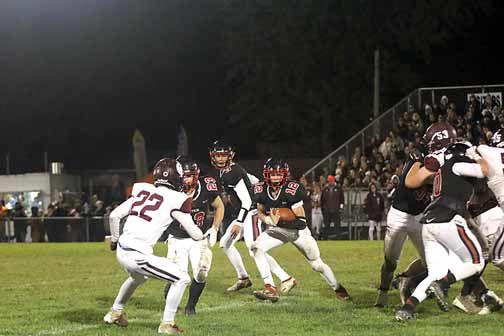 "They did a great job of opening holes. They imposed their will," said Alan Hills, head coach. "Austin is our only healthy running back. So we just told him he was going to get a workload, and Austin answered the call. We controlled the ball and the clock."
The Rangers moved the ball on their opening drive with a 12-yard run and a 15-yard pass play, but a sack by Craig Ashton and an interception by Carter Olson gave Aitkin the ball in Ranger territory.
A nine-play drive with Price carrying the pigskin seven times followed, resulting in a Gobbler touchdown at the 4:40 mark of the opening period. Price's conversion run opened an 8-0 Gobbler lead.
A quarterback sack by a host of Gobbler defenders and a Ranger fumble on the two-yard line, which was recovered by Jake Ince, set up a Kyle Cluff quarterback sneak for the second Gobbler TD. Dox ran the ball for the two-point conversion, and the home team led 16-0 late in the first quarter.
The Rangers answered early in the second period with a 15-yard touchdown pass, narrowing Aitkin's 1ead to 16-6.
However, Price and the offensive line weren't done. A 14-play, 79-yard drive followed. Price carried the ball nine times, but Caiden Kjelstrom's third down, a 15-yard run along the Ranger sideline kept the offense on the field. With the ball on the Ranger 17-yard line, the Gobblers went to their bag of tricks. Dox took the handoff, raced to the right before tossing a halfback pass back to a wide open Cluff, who walked into the end zone untouched. Aitkin 22, C-I 6 at halftime.
Neither team was able to sustain any offense in the third quarter, but the Gobbler defense was stifling. The Rangers managed only one yard of offense the entire second half. C-I went three-and-out on its first possession and a Carson Kullhem interception stopped the Rangers on their second possession.
On their third possession of the half in the fourth quarter, Jake Ince picked off a Ranger pass, leading to a 10-play drive which resulted in a Price six-yard TD. Price's conversion run closed out the scoring, and the Stump was hoisted in the Gobbler victory.
Crosby-Ironton 0  6 0 0 – 6
Aitkin               16 6  0 8 – 30
Scoring by quarters
First quarter
A-Austin Price 3 run (Price run) 4:40
A-Kyle Cluff 1 run (Carter Dox run) 1:58
Second quarter
CI-Cam Durant 14 pass from Dakota Mitchell (run failed) 10:09
A-Cluff 17 pass from Dox (run failed) 2:05
Fourth quarter
A-Price 6 run (Price run) 1:56
Team and individual statistics:
Total yards: A-61-269, C-I 33-74
Passing: A-46 yds., C-I 83yds.
Rushing: A-223 yds., C-I -9 yds.
Individual:
Passing: A-Cluff 2-5-30 yds., Dox 1-1-17
Rushing: Price 37-185, Hunter Nissen 9-28 yds., Kjelstrom 1-11 yds.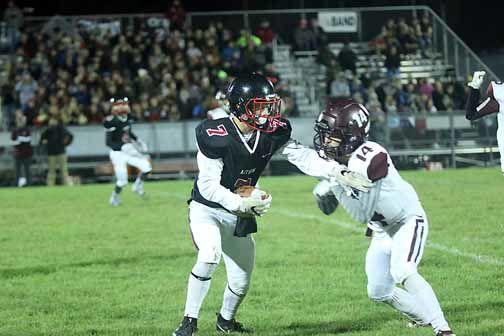 Receiving: Jake Ince 1-15 yds. Joe Cummings 1-15 yds. Cluff 1-17 yds.
Interceptions: Ince, Carson Kullhem, Carter Olson
Tackles for loss: Manni Ukutegbe, Craig Aston
Sacks:Ukutegbe, Jackson MacDonald
Fumble recovery:Ince
Defensive Coordinator Sean Smith stated:
"I was very happy with how we played Friday night against C-I. Crosby had been putting a lot of pressure on defenses all year with their ability to throw and run. They also ran multiple formations and did multiple plays out of those formations. We challenged the guys this week to study film and have every formation and tendency out of that formation memorized. The players really stepped up; this was the most mentally prepared we have been for a game this season. We got great performances from Manni Ukutegbe who had at least one sack, some tackles for loss and a bunch of quarterback pressures. Carter Olson had one of our biggest plays of the game with the early interception on C-I's first drive. Jake Ince recovered a fumble on the 1-yard line and had the last interception of the game to seal the win. Craig Ashton, a ninth-grader, proved he belongs on the field. We also got Jack MacDonald back from injury, which was huge. He not only had a bunch of tackles and a sack, he allowed us to rest Austin Price on defense and enable him to have the big day he had on offense. I was so proud of the execution of the whole defense and was super happy for the seniors to be able to bring the Stump back home their senior year."