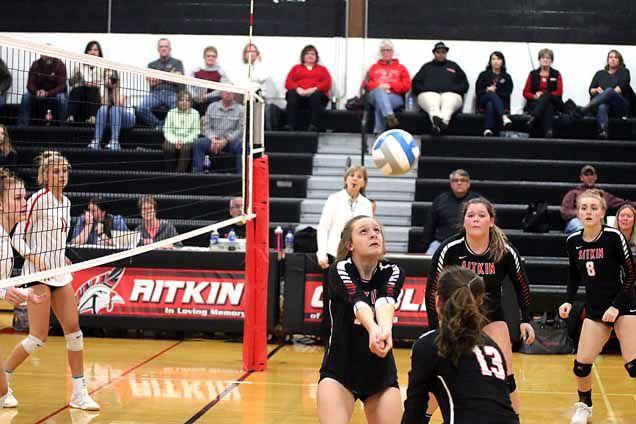 The Aitkin Gobbler volleyball team remains at .500 on the season, splitting a pair of home games last week, beating Hinckley-Finlayson, 3-0, Sept. 30, and losing to Detroit Lakes, 3-1, Oct. 3.
In the Mid States Conference loss against Detroit Lakes, Lyda Fellerman smacked 13 kills and 13 digs, Teagan Piecek knocked down 11 kills while Noelle Jones accumulated eight kills and three blocks. Ally Ehnstrom dished out 30 set assists, and Kate Pelarski added 20 digs.
The Lakers dominated the net in game one with 10 kills and four ace serves, winning 25-12.
The Gobblers were the aggressors early in game two with seven kills while building a 9-5 lead. During that stretch, Jones and Rae Nyberg each had one ace hit while Fellerman had two and Piecek three. The Lakers rallied to knot the score at 17, but three ace serves by Ehnstrom put the home team up, 20-17. Detroit Lakes retied the score at 23 before tallying the final two points and a 25-23 win.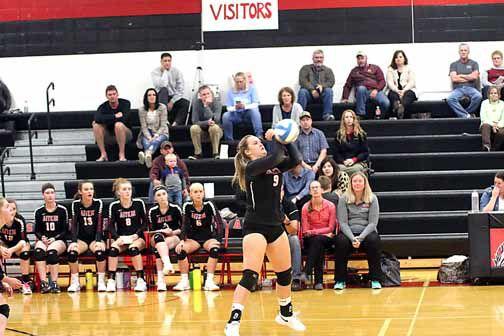 Game three was another dandy. The Gobblers scrapped their way to an 8-4 lead behind a pair of Piecek kills. Fellerman's kill increased the Gobblers' margin to five, 18-13. A 9-5 Laker run including an ace serve, made the score 23-22 Aitkin, but Piceck's kill and a Laker missed kill attempt gave the Gobblers a 25-22 victory.
Game four was again dominated by the visitors who bolted to an 18-8 lead, never looking back, winning 25-15.
Detroit Lakes 25  25   22  25
Aitkin                 12   23  25  15
Individual statistics
Libbie Boser 5 digs
Jessica Much 8 digs
Lydia Fellerman 13 kills, 13 digs
Kate Pelarski 2 set assists, 20 digs
Noelle Jones 8 kills, 3 blocks, 1 ace serve, 1 dig
Trista Brandt 2 digs
Ally Ehnstrom 30 set assists, 4 ace serves, 5 digs
Maddie Buisman 1 kill, 2 blocks, 2 digs
Rae Nyberg 3 kills, 1 set assist
Teagan Piecek 11 kills, 1 dig
Gobblers cruise past Jaguars
Lydia Fellerman tallied 10 kills and two digs to lead the Gobblers to a 3-0 win over the Hinckley-Finlayson Jaguars Sept. 30. Kate Pelarski added 14 digs and setter Ally Ehnstrom registered 29 set assists.
Aitkin 25 25 25
Hinckley-Finlayson 17 16 15
Individual statistics
Libbie Boser 1 dig
Jessica Much 4 digs
Lydia Fellerman 2 digs, 10 kills
Kate Pelarski 14 digs
Noelle Jones 1 block, 8 kills
Trista Brandt 6 digs
Ally Ehnstrom 2 digs, 29 set assists
Sarah McMillan 1 set assist, 1 block, 1 kill
Maddie Buisman 1 kill, 1 block
Isabel Hensel 4 ace serves, 2 kills
Rae Nyberg 1 ace serve, 1 block, 6 kills
Teagan Piecek 6 kills