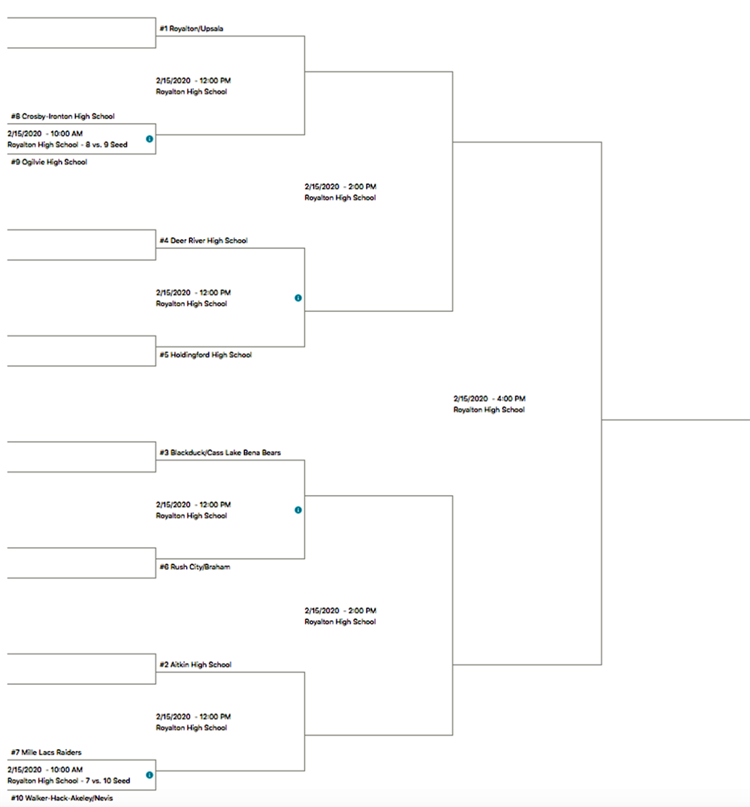 The Aitkin Gobbler wrestlers were on the home mat Feb. 6 for their last dual meet of the regular season, honoring their only senior wrestler, Nathan Rom. In front of a full gym of roaring fans, the Gobblers wrestled their way to a 41-32 victory over the Zimmerman Thunder.
Aitkin had added on a tournament to make up for some of the matches missed due to the weather and it proved to be a good day for the wrestlers, with 13 of the guys placing at the Howard Lake-Waverly-Winsted Invitational on Saturday.
The Gobblers enter into section action with the 7A team tournament at Royalton on Saturday, Feb. 15. Aitkin will go into the tournament with a 13-8 regular season record. Teams were to be seeded Monday with match-ups not yet announced at press time. Section 7A teams are Aitkin, Blackduck/Cass Lake-Bena, Crosby-Ironton, Deer River, Holdingford, Mille Lacs, Ogilvie, Royalton, Rush City-Braham and Walker-Hackensack-Akeley-Nevis. The opening round is scheduled to start at 10 a.m., followed by semi-finals with finals at approximately 3 p.m. to determine which team will represent Section 7A at the State tournament Feb. 27. Individual sections will be wrestled Saturday, Feb. 22 at Rush City.
Aitkin, 41
Zimmerman, 32
106-Nathan Trotter won a 9-4 decision over Ryley Chapman.
113-Marshall Larson wrestled a 20-4 technical fall in 4:55 over Kellen Martin.
120-Carson Kullhem pinned Sam Miller in 4:27.
126-Nathan Rom got the takedown in sudden death overtime for a 9-7 victory over Joe Montplaisir.
132-Walker Jones pinned Michael Johnson in 4:27.
138-Jack Grell took the forfeit for Aitkin.
145-Jacob Williams fell to Thunder power, Joe Gardas.
152-Dan Decent fell to Steven Weiser.
160-Andy Hayes lost by fall to Sam Freeberg.
170-Hunter Hills lost a 3-11 major decision to Thunder senior, Ryan Bouley.
182- Zach Leitinger lost a 2-12 major to Aiden Pardino.
195-Aitkin was open.
220-With the Gobblers down 29-32, Nathan Stifter pinned Kameron Arieta in 1:57.
Hwt.-Bringing the crowd to their feet, Sam Ostrode pinned Taylor Clapp in 1:30.
Flynn Strong, Tanner Hills, Corey Hill and Tyler Decent won exhibition matches for the JV.
HOWARD LAKE-WAVERLY-WINSTED INVITATIONAL
At 106 pounds, sophomore Marshall Larson brought home the gold and also pegged his 75th career varsity win, going 4-0 at the HLWW Invite at Howard Lake on Saturday.
Finishing in second place for Aitkin were 126-Nathan Rom, 2-1; 120-Carson Kullhem, 3-1; 132-Walker Jones, 2-1 and 145-Jacob Williams, 2-1. Placing fourth were 170-Hunter Hills, 1-2 and 160-Tyler Decent, 2-2. 106-Nathan Trotter, 3-1; 152-Dan Decent, 2-2 and 220-Nathan Stifter, 1-2 placed fifth and 132- Tanner Hills, 2-3; 113-James Erickson, 0-3 and Hwt.-Sam Ostrode, 1-3 finished in sixth place. 145-Corey Hill, 17-Zach Leitinger and 182-Jacob Espeseth also wrestled in the full-day tournament.
Aitkin finished in third place out of the 10 teams represented with 133 team points. Watertown/Mayer Lutheran topped the tourney with 158 points, followed by Annandale/Mountain Lake with 135. Other teams included  BOLD, Hibbing, Howard Lake-Waverly-Winsted, Mound Westonka, Redwood Valley and Roccori.